Varsham Malayalam Movie Review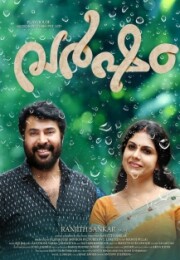 Overview of Varsha Review
Cine Shore Rating:
3.0 Fair on content and high on Mammootty.
PLOT – Varsham Malayalam Movie
Venu (Mammootty) is a financier and has a happy family including his wife (Asha Sharath) and son (master Prajwal). A twist in the tale turns their lives forever and what happens to Venu and his family forms the rest.
PERFORMANCE – Varsham Film
As claimed by the director Varsham is highly dependent on Mammootty and he delivers it with ease. Mammootty who was more on subtle characters of late, comes up with an intense and expressive performance this time. Few scenes resembles us the vintage Mammootty. Overall a brilliant performance. Asha Sharat is good as Venu's wife but looked artificial in the beginning because of a clichéd characterisation. Mamta, T.G Ravi, Vinod Kavur are good in their roles. The rest of the artists are fine.
STORY – SCREENPLAY – DIRECTION – Varsham
Director Ranjith Shankar isn't know for bringing novel concepts or great films. But he knows to explain things in simple yet likeable manner. If it was the decent thrills in Passenger, the humour in Punyalan, this time around it is Mammoottys performance. When he took a simple plot he made sure that he has extracted a good portion of actor in Mammootty. The screenplay is decent but could have been better in the beginning. Dialogues are meaningful and touching at many portions. Direction is fine.
TECHNICAL DEPARTMENT – Varsham Malayalam Film
Manoj Pillai's Cinematography is really an asset for the movie. He has made sure that there is richness in every possible frame. A movie which relies more on emotion need a good involvement from its music director and Bijibal does his duty with his smart background scores. Editing by Sagar Das is neat. Production values by Mammootty is fair.
ANALYSIS -Varsham Movie Review
The films begin on a weak note as there are many clichéd sequences. But gets better when it enters into the plot. From there it is the directors emotions and Mammootty's performance which carries the movie forward. Fortunately both works big time for the movie and thus makes up for the simple Plot. Ranjith Shankar's recent movies had a tendency for a little bit weak later half's but Varsham is an exception. In fact the later half is better when compared with the earlier. Overall Varsham may not be a great film or a masterpiece. But it has its heart in the right place and a brilliant Mammootty which makes up for an easy watch.