Rajadhi Raja Malayalam Movie Review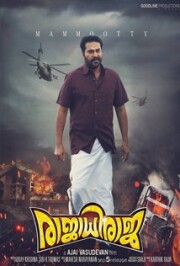 Overview of Rajadhi Raja Review
Cine Shore Rating:
3.0 A good festival entertainer.
PLOT – Rajadhi Raja Malayalam Movie
Shekharan Kutty (Mammootty) is a petrol pump manager living a happy life with his wife and only daughter. Comes Ayyappan (Joju) into their lives and Shekharan Kutty and family are then dragged into many cases due to Ayyappan. What follows form the rest.
PERFORMANCE – Rajadhi Raja Film
In all ways this would be Mammootty's best character in terms of his 'Star' Avatar with a good amount of heroism and ample emotions. The director has used his screen presence quiet brilliantly. In terms of his performance he has done an underplay even though its a massy character. There are few emotional scenes, where also he has given a credible work. Raai Lakshmi is okay as Mammootty's wife and she doesn't have much to do. Siddeeque is good as a noble Government servant while Joju entertains in few scenes. Mukesh Khanna is fine. There is an ensemble cast of villains like Raza Murad, Rahul Dev, Nawab Shah etc are utilized quiet well.
STORY – SCREENPLAY – DIRECTION - Rajadhi Raja
First of all this is a formula driven entertainer. Thus searching a novel plot is no good here. Films like his need racy screenplay and the correct amount of masala. In a way Udayakrishna and Sibi. K. Thomas has done a decent job with Rajadhi Raja. There are no slapstick items to evoke a laugh or unwanted comedy tracks. One of the better scripts from the duo in recent past when you consider it as a festive entertainer. Still there were few episodes like the flashbacks where the writing could have been better. But the soul of the movie is the direction from the newcomer Ajay Vasudev. He has used all his experience of being assisted with many big names like Shafi, Vyshakh etc. He has given the correct build up and the elevation for Mammootty's character without falling for unwanted heroism. Gives what it required. Seema like Ajai has inspired a lot from Tamil/Telugu movies and has executed many scenes neatly. An impressive debut.
TECHNICAL DEPARTMENT – Rajadhi Raja Malayalam Film
This is another area where Rajadhiraja scores again. Shaji's cinematography is very racy and gives good impact for the action scenes. Gopi Sunder's background music is good. Editing is very good in fight sequences and holds the movie from big drags with timely cuts. Art direction is credible and the production values are too good.
ANALYSIS – Rajadhi Raja Malayalam Movie Review
The film starts quiet slowly, but the tempo slowly increases with the right amount of emotions and build ups. The interval block is a scream with brilliantly executed action episodes and hero elevation. Post interval the film goes on a normal mode with a usual flashback episode and here it could have been better. Again the film picks up with regular hero elevation scenes and racy writing. The lead to the climax is quiet well and is followed by a well executed climax fight. Being a masala entertainer, the film is predictable and formulaic. But it has delivered what was expected from it to a good extend. For the fans of Mammootty, it is nothing short of a treat where their Megastar has come back to full energy and for others it is definitely a watchable fare if you go in with right expectations for a festive entertainer.