Bhaskar The Rascal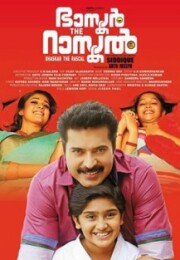 Overview of Bhaskar The Rascal Review
Cine Shore Rating:
3.0 Fair enough.
PLOT – Bhaskar The Rascal Malayalam Movie
Bhaskar [Mammootty], his father [Janardhanan] and son Adhi [Sanoop] are a happy family. Through Adhi, Hima [Nayanthara] and her daughter [Baby Anikha] comes into their life. How their life changes from there is said in Siddiq's 'Bhaskar The Rascal'.
PERFORMANCE – Bhaskar The Rascal Film
A veteran director like Siddiq knows the plus points of Mammootty and draws the most of him in the comedy sequences along with few emotional ones. Another factor is Mamootty's everlasting looks which Siddiq has exploited. One cannot take off the eyes whenever he is on screen [Due credits to his stylists and costume department]. On a whole, an energetic performance from Mammootty. Nayanthara is equally good as Hima and like any Siddiq heroines she is most of the times in tears. She, also shares a beautiful chemistry with Mammootty. Huge credits should go to the Kiddo's Anikha and Sanoop. Both of them were given big responsibilities and they did complete justice to their roles. Shaji, Harisree Asokan, and Shajon entertainers more, most of the time they are on screen, but could have been given more space in the second half where they have limited presence. J.D Chakravarthy is given a weak character and he is your typical clichéd villain. The same can be said about other negative characters.
STORY – SCREENPLAY – DIRECTION – Bhaskar The Rascal
Siddiq doesn't have anything new to say, but used his central characters very well by writing lots of comedy sequences surrounding them and a couple of feel good portions. The screenplay is interesting in the first half and Siddiq could carry it till the halfway point of the second half. But from there it gets melodramatic and forced. Still the leads holds it from much damage and ends on a rather decent note. Direction is neat apart from a weird climax fight scene. Looks like Siddiq went on his mate Lal's recent formula of fitting some over the top thrills.
TECHNICAL DEPARTMENT – Bhaskar The Rascal Malayalam Film
Jay Ulaganath is another hero of the movie as his photography is one of the assets for the movie. He knew the intention of his director to make a wholesome entertainer and does as much as grand he can. Few of his best shots comes in, the song sequences. Deepak Dev does a nice job with his songs and background scores are decent. Editing looks improper at a few scenes as the film was cut short around 15 minutes or so in the final stage.
ANALYSIS – Bhaskar The Rascal Malayalam Film Review
The movie starts on an interesting note and comedy takes the centre stage here. Mammootty and the kids are those who delivers most of the laughs rather than the sidekicks. Along with that there are those typical feel good emotions of Siddiq and this time around, he dealt it without much drama. A thoroughly entertaining first half is followed by a similar second, but only till the halfway. From there the forcefully written villain's part takes the graph a bit down. The director also tries some action scenes towards climax, which he isn't comfortable with and that is evident on screen as it turns out to unintentionally funny. But apart from this the director could hold the movie from lags or unwatchable moments. It is also a decent comeback for Siddiq in commercial front after the 'Ladies and Gentleman' debacle. Overall it's a fair, festival entertainer, except for the last few portions.