Fireman Malayalam Movie Review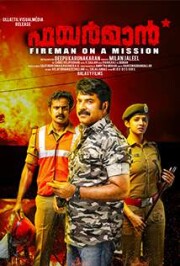 Overview of Fireman Review
Cine Shore Rating:
3.0 An engaging rescue mission.
PLOT – Fireman Malayalam Movie
It's all about a rescue operation done by a fire force team lead by Vijay [Mammootty], which is resulted after a gas tank is leaking. What happened thereafter and is their any external links, is said in Fireman
PERFORMANCE – Fireman Film
Mammootty as Vijay is fitting and he has maintained a good energy level throughout. A film like this which discusses a relevant situation needs somebody with good screen presence and inarguably Mammootty is best in this business. His conversation scenes with Nyla is clap worthy at many places. It is a new avatar for actress Nyla Usha and she does a neat job. Unni Mukundan gets scope for some performance after a while and he is impressive this time. Salim Kumar, Siddique etc. are good and the rest of the cast contributes well.
STORY – SCREENPLAY – DIRECTION – Fireman
The film does have an engaging plot if not great and what it required was a racy execution. To an extend Deepu and his team does the job. The film doesn't have many wow moments but again, there are enough moments to glue the audience. The writers do a good job by avoiding unwanted melodramas and cliches to a great extent which is one of the positives here. Direction wise Deepu Karunakaran improves a lot and its a matured work from him.
TECHNICAL DEPARTMENT -Fireman Malayalam Film
The cinematography is good and so is the background scores. The biggest asset for the movie is its editing by timely cuts and crisp duration. It's hardly 120 minutes and that's what one asks for a straight thriller.
ANALYSIS – Fireman Malayalam Movie Review
The movie begins on a weak note and takes its time to get into the plot. From there it is engaging and makes up for a decent first half. Second half is better with more engaging with intense moments and a few genuine thrills. The climax is well executed. Overall its not a great thriller or a must watch. But is a neatly executed thriller without much flaws and a superb Mammootty. Worth your time and money..!