Vellimoonga Malayalam Movie Review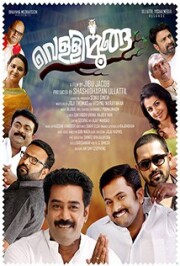 Overview of Vellimoonga Review
Cine Shore Rating:
3.0 A Sweet Surprise.
PLOT – Vellimoonga Malayalam Movie
Around 40 years old Mamachan (Biju Menon) is a wanna be a great politician who uses his khadar to attain his career high in the field. The film says about Mamachans political settings, his love life etc.
PERFORMANCE – Vellimoonga Film
It is a delight to watch Biju Menon in this character and this is a welcome change into the solo stream for the versatile actor in him. His dialogue deliveries and comedy times are simply superb. Aju Varghese also does a good job by providing the counters to Biju's character. K.P.A.C Lalitha is at her usual best while Nikki Galrani fits the bill. Asif Ali provides a decent guest appearance.
STORY – SCREENPLAY – DIRECTION - Vellimoonga
Though the story is quiet average, the treatment is pretty impressive. The screenplay has enough entertaining elements like well written comedies, situational moments etc. But there are few episodes which could have been dealt well. Dialogues are another plus. Jibu Jacob does a pleasing job and his direction is neat. The director should be appreciated for casting a not-so-big star Biju Menon.
TECHNICAL DEPARTMENT – Vellimoonga Malayalam Film
Vishnu Narayanan's director of photography is good and he nicely captures the village without missing the essence. Bijibal's music is fine and background music's are good. Editing is very neat.
ANALYSIS – Vellimoonga Malayalam Movie Review
Vellimoonga is definitely a movie deserving watch from the audience for its humour and well etched major characters. With no vulgarity and cheap moments the director pulls a nice film without any pre-assumptions. There is a chance for the movie to collect a decent amount to the makers in coming days.