Thoppil Joppan Malayalam Movie Review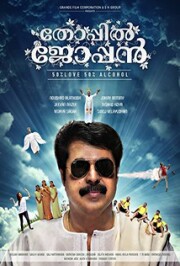 Overview
Cine Shore Rating:
3.5
Simple but likeable.
PLOT – Thoppil Joppan Malayalam Movie Review
Joppan [Mammootty] a typical Idukki Xtian falls in love with Ani [Andreah Jeremiah] in his teenage. This makes a ruckus in his home and Joppan had to leave his native in order to earn money. When he reaches back he finds that Ani is getting married to another person and that leaves Joppan an alcoholic.
PERFORMANCES – Thoppil Joppan Malayalam Movie Review
Mammootty is loveable as Joppan with his charming presence and smoothly done humours. He is the best part of the movierulz. Heroines Andreah and Mamta has almost equal footages and both of them has done their roles well. Kaviyoor Ponnamma is the usual mother character but she has made their presence felt. Alancier, Sohan, Paashaanam Shaji, Sreejith Ravi etc entertains as hero's sidekicks. Harishree Ashokan is fair while Salim Kumar is not upto expectations.
STORY – SCREENPLAY – DIRECTION – Thoppil Joppan Malayalam Movie Review
The story of the film revolves around the love lives of Joppan and it is a pretty simple tale. The screenplay laced with few neat humours is decent but could have been better in the second half. The sub plot involving Meganathan is one such episode. Nishad Koya has situations to build more humour, but seems like they wanted to keep it simple. Direction by Johny Antony is decent though there were scope for better punch. Dialogues are nice.
TECHNICAL DEPARTMENT – Thoppil Joppan Malayalam Movie Review
The film has breezy visuals and Idukki and premise are shot well. Vidyasagar's songs and bgm's are okay. Editing is alright.
ANALYSIS – Thoppil Joppan Malayalam Movie Review
Thoppil Joppan is basically a love story of our hero said in a village backdrop. The tale is narrated with simple fun moments and one liners. First half of the film is a cool watch with Mammootty taking the centre stage including the comedies. Second half is also watchable though there isn't emotional depth where one liners make up for that. Climax is neat but is rushed up. Overall it is a simple film which can be watched once for the loveable Mammootty and the entertaining one liners.