SapthamaShree Thaskaraha: Movie Review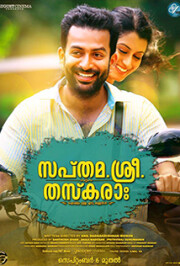 Overview of SapthamaShree Thaskaraha: Review
Cine Shore Rating:
3.0 Simple and Steady.
PLOT – SapthamaShree Thaskaraha: Malayalam Movie
Seven jail inmates, who are punished for different cases plans a robbery against a common enemy of a couple of them. Released from jail they sets out for the mission and what happens next is said in the film.
PERFORMANCE – SapthamaShree Thaskaraha: Film
Prithviraj is good as the lead and he just had to deliver a subtle performance which the character asks. Asif Ali is comfortable as a tough guy and he has got few scenes to show sum guts. Chemban Vinod Jose is hilarious as he carries the comedy part with ease. Sudheer Karamana, Nedumudi Venu, Neeraj Madhav, Salam Bukhari etc also gets importance and they are all very good. Joy Mathew is okay as the villain. Reenu Mathews and Sanusha as the female leads are good in their roles.
STORY – SCREENPLAY – DIRECTION - SapthamaShree Thaskaraha:
Story of the movie is simple. Its a wafer thin plot executed with straight and simple screenplay. But what works for the movie is this simplicity, like Anil's previous venture North 24 Kaatham. Plus the humorous one liners and witty dialogues helps the proceeding move nicely. But there are few inevitable drags in both halves as the film revolves around a simple plot. Direction is fine. The script gives equal importance to everyone without revolving around the lead.
TECHNICAL DEPARTMENT – SapthamaShree Thaskaraha: Malayalam Film
Jayesh's cinematography is flawless. Just like the film it is simple but fine. Rex Vijayan's songs are fine and his background scores have helped the movie very much. Editing could have been better as the pace is lost in parts. But being a heist movie it does some compromises on the logic part as it takes some cinematic liberties.
ANALYSIS – SapthamaShree Thaskaraha: Malayalam Movie Review
The movie starts promisingly with some nice humours, but loses the graph with too many flashbacks. But towards interval it pauses nicely setting a decent platform to the second half. Second half is again simple, but the technical side helps it to stay steady with few smartly executed scenes like the climax. Still the length could have been trimmed a bit. Overall Sapthamashree Thaskara may not be a great film. But its a simple and easy watch like the directors previous one with more humor this time.