Premam Malayalam Movie Review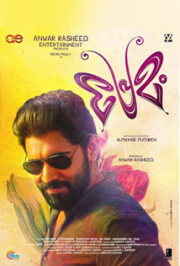 Overview of Premam Malayalam Movie Review
Cine Shore Rating:
3.5 It entertains.
PLOT – Premam Malayalam Movie Review
Premam tells the story of George [Nivin Pauly] and his two friends narrated through different timelines. Their campus life, love, friendship etc. forms the films crux.
PERFORMANCE – Premam Malayalam Movie Review
This is more like a big launch of a star in Nivin Pauly. Alphonse, who is a long time pal of Nivin packs ingredients from fights to dance to elevate him. Nivin, on the other hand handles things confidently which was needed for the character. He is good in the initial episodes in which he is comfortable. But where he surprises is during the campus episodes where he brings the attitude factor. One could see Nivin coming out of his comfort zone probably for the first time in a few sequences. A remarkable performance overall. Anupama and Sai Pallavi and Madonna, the female leads are refreshing addition to the movie with more of a realistic appeal. There are many more interesting characters like Nivins sidekicks, a hilarious lecturer combo shobin and Vinay fort etc. All of them plays their part very well. Ranji Panicker makes an interesting guest appearance.
STORY – SCREENPLAY – DIRECTION – Premam Malayalam Movie Review
The film's storyline is wafer thin and nothing new is there to watch out for. But where is scores are the superb one liners and realistic narration. The screenplay is adequate and the director creates situations to score comedies. The direction is good.
TECHNICAL DEPARTMENT – Premam Malayalam Movie Review
Anand's photography is impressive with slick shots, but looks like Alphonse is yet to come out of his short film hangover as the colour grading is still the same. Rajesh Murugesan's songs are decent while his background scores are a huge plus. The film is heard of being in the editing table for numerous time as the length went quite haywire. Even after that one expects a little shorter duration.
ANALYSIS – Premam Malayalam Movie Review
Alphonse Puthren knows what he is doing and where is he placing the film. Without much story or sub plots he scores it with interesting characters and fun moments. Besides this he brings some formula elements. It starts off nice and gets better with the campus episodes. The film does loose the graph towards the later point of the second half and the climax episodes looks forced which could have been better. But the films purpose to entertain the audience and project the star in Nivin Pauly is achieved at the end. Overall 'Premam' ends as a nice entertainer and you may enjoy it if expectations are not sky high.