Picket 43 Malayalam Movie Review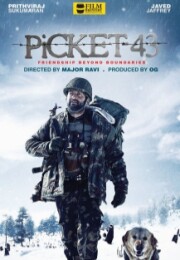 Overview of Picket 43 Malayalam Movie Review
Cine Shore Rating:
2.5 Doesn't live upto expectations.
PLOT – Picket 43 Malayalam Movie Review
Havildar Raveendran (Prithviraj), who is getting ready to leave for his hometown gets a quick posting to Picket 43 as the area is in Virge of a terrorist attack. There he meets another army man (Javed Jaffery) with whom he builds a friendship. The rest is about what happens after Picket 43 and to them.
PERFORMANCE – Picket 43 Malayalam Movie Review
Prithviraj gets a good role once again and he does full justice to his character. He is fitting as an army man and does good in emotional scenes. Javed Jaffery is fine as a Pakistani soldier and both of them shares a good chemistry. Cast includes other like Ranji Panicker, Anu Mohan etc and they all fits the bill.
STORY – SCREENPLAY – DIRECTION – Picket 43 Malayalam Movie Review
Story of the movie is quiet potential but the screenplay is most of the times dull and plain without much happenings. Where it scores is towards the climax portions with good emotions. Its not that the screenplay is bad but it lacks any emotional depth or thrills sans for the last portions. Also the sub-plots of both the leads do little. Dialogues in the first half could have been better. Direction is decent.
TECHNICAL DEPARTMENT – Picket 43 Malayalam Movie Review
With Jomons inclusion, one excepts some great visuals and he does it brilliantly, which remains as the biggest plus for Picket 43. Background scores are good while editing is adequate. Locations are authentic.
ANALYSIS – Picket 42 Malayalam Movie Review
First half is average which includes flashback portions of Raveendran. But the second half goes a bit low until the climax portions which saves it from falling apart. The emotional scenes between the characters and the fight scenes works well here. On the plus side we have the performances, cinematography and positive climax and on the flip side it is plain screenplay and lack of thrills. Overall it is an average flick which certainly could have been a lot better.