Peruchazhi Movie Review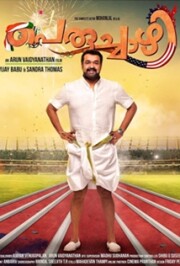 Overview of Peruchazhi Review
Cine Shore Rating:
3.0 A Decent Entertainer.
PLOT – Peruchazhi Malayalam Movie
Jagannathan (Mohanlal), Jabbar (Baburaj) and (Aju Varghese) are three local politicians who are called by to campaign for the upcoming elections. What happens when they reaches their forms films plot.
PERFORMANCE - Peruchazhi Film
Mohanlal is full on energy and is a real treat for fans. His dialogue deliveries are very good and few mannerisms works. Mukesh and Ramesh Pisharody isn't utilised well. Baburaj and Aju Varsghese is fine. Ragini Nandwani's character is poor, but she is decent enough. Vijay Babu is good and others are okay.
STORY – SCREENPLAY – DIRECTION – Peruchazhi
Plot of the movie is, quiet promising but screenplay is mediocre. Dialogues are partly good. Arun's direction is good at parts.
TECHNICAL DEPARTMENT – Peruchazhi Malayalam Film
Peruchazhi, as seen in promos and posters is technically top notch. Cinematography is eye candy at most of the places and the background music elevates many scenes. Art direction is also rich. But editing looks place with many stretched out scenes testing the patience.
ANALYSIS - Peruchazhi Malayalam Movie Review
The film is very promising in the initial hours with well written comedies and a nifty direction. But looses the tempo before some minutes to interval. Second half is partially entertaining with many elements targeted at fans who would love it. But again the problem is inconsistency of the movie with few dragged out scenes and repetitive sequences. But finally manages to end on an okay note with a decent climax. If the expectations are low and if you are ready to keep your brains at home, and if you are a fan of the entertainer in Mohanlal, it is a decent entertainer. But for others it may be a mixed treat. Surely a family entertainer for this festival season.