Pandiya Naadu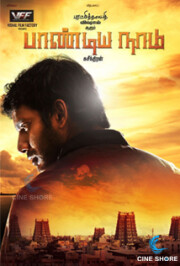 Overview
Cine Shore Rating:
3.5 A powerful film that touches your heart!
Plot : The film is a simple tale of gang wars in Madurai and how a simple man (Vishal) takes revenge on the sufferings of his family. The film is a mix of sentiments, action and romance with a realistic execution of the theme.
Performances : Vishal is superb as the underdog who punches above his weight while Lakshmi Menon looks cute. The antagonist and rest of the cast including the person playing the hero's dad come up with fabulous performances .
Technical Side : The cinematography is good and direction is top notch from Suseenthran. The script looks similar to his own 'Naan Mahaan Allai' but the dose of heroism is toned down here with a more realistic approach. First half is jolly with bouts of violence in between while the 2nd half is powerful and emotional with a nice climax. D.Imman's music is decent.
Analysis : Vishal's Panidyanaadu is a powerful film with a simple plot that will surely strike a chord with the audiences. Suseenthran's packaging makes the film a worth watch indeed.
Rating : 3.5/5