Oppam Malayalam Movie Review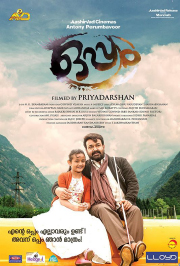 Overview
Cine Shore Rating:
3.5
Priyadarshan shines, Oppam Mohanlal um!
PLOT – Oppam Malayalam Movie Review
Jayaraman [Mohanlal] is a blind person working as a lift operator for an apartment. Though blind, he is sharper and wiser than normal fellow beings. Jayaraman is good in physical defense too, just like other active blind people.
PERFORMANCES – Oppam Malayalam Movie Review
First of all, here is a movie finally challenging the actor in Mohanlal. Though there was Vismayam, the wait was more in a straight Malayalam film. It is none other than his close pal, Priyadarshan who finally utilizes Mohanlal to a good extent. He is totally riveting and Jayaraman was in the safe hands of Mohanlal. Vimala Raman has nothing much to do rather than keeping the screen space. One feels like she was a mismatch in some portions. There are typical Priyan characters who are infused to entertain like Hareesh, Mammookkoya, Chemban Vinod etc. and they does their duty. Samudrakhani is equally good in an important character and he is another plus for the movie. Little girl Meenkashi delivers one more nice performance. Shajon's character calls back his popular Drishyam character.
STORY – SCREENPLAY – DIRECTION – Oppam Malayalam Movie Review
A blind man becoming a murder witness and trying to chase the killer has great potential. Of course, it's a plot inspired from foreign films, but it's again Priyan's Desi-flying which clicks here. Though the screenplay is average in the first half, it gets better in second, with a good amount of thrills and entertainment. Direction is neat and that's one part Priyan fails rarely. It isn't a whodunit and the killer is revealedhalfway itself. Such a plot needs engaging screenplay and Priyadarshan makes no mistake.
TECHNICAL DEPARTMENT – Oppam Malayalam Movie Review
N.K Ekambaran's DOP is one of the biggest asset for the movie. Songs are above average but they are captured well. Editing was alright, still few cuts were necessary, most importantly in the climax. Songs placement is another area where it should have taken care.
ANALYSIS – Oppam Malayalam Movie Review
It would be more justified to say Oppam marks the comeback of Priyadarshan the maker, than Mohanlal. Doesn't mean that Mohnalal is not important, but utilizing him was the highlight of Oppam. Compromising few flaws, it's a good comeback from Priyadarshan. So is the case of Mohanlal who was eagerly waiting for a strong character in his mother tongue. The first half is Okay with building the base, but the placing of songs makes little annoying. Second half is where the film lies with some clap-worthy moments and a better screenplay. Still the climax looks a bit stretched. Overall, Oppam leaves you satisfied in the end with good amount of thrills and entertainment.