Oozham Malayalam Movie Review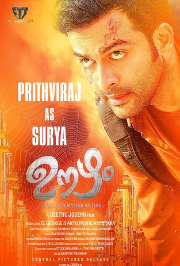 Overview
Cine Shore Rating:
2.5 Average!

PLOT – Oozham Malayalam Movie Review
Surya [Prithviraj] is an employee in U.S.A who comes to spend his vacation with his family in Coimbatore. There a tragedy awaits his family and to avenge that Surya takes the centre stage.
PERFORMANCES – Oozham Malayalam Movie Review
Performances: Prithviraj is good in his avatar and his character are charged with fair amount of emotions. Neeraj Madhav gives a good company to the hero and he too does his job neatly. Divya Pillai's character is pretty ordinary and there isn't much she could do. Resnaas Prithviraj's sister is good while Balachandra Menon, Seetha, Kishor Sathya etc. are okay in their brief but important roles. Coming to the antagonists Jayaprakash is riveting, but the young artists are just average. Pashupathi is good as usual.
STORY – SCREENPLAY – DIRECTION – Oozham Malayalam Movie Review
From the beginning itself Jeethu is claiming if as a simple revenge drama devoid of big twists or turns. Still, you can't escape from the expectations after you set your bar above something. More than to present a film, it looked like Jeethu wants to expand his portfolio by touching different genre's rather than sticking onto something. Coming to Oozham the film has a wafer thin plot which you could guess it from the promos itself and thus it demanded a tight screenplay to keep things engaged. Unfortunately, just like what Jeethu claimed this is usual and a pretty ordinary screenplay. Again, it is evident that he wanted to bring the freshness in the treatment rather than the screenplay. But just like the writing, the presentation too lacks any surprises. In short pretty ordinary flick. Direction is okay.
TECHNICAL DEPARTMENT – Oozham Malayalam Movie Review
Shamdat Sainuddeen's Cinematography is nice, and the background scores are okay. Editing is mixed with few good cuts and few below par ones. Action choreography's are average at be
ANALYSIS – Oozham Malayalam Movie Review
It is a simple revenge drama with predictable screenplay and short-of-surprise treatment. There are few interesting set pieces like the one in the end, but they are few and far in an ordinary flick. Even with this plot, the writer in Jeethu could have done the trick. But seems like his motive was somewhere. On a whole an average fare.