O Kadhal Kanmani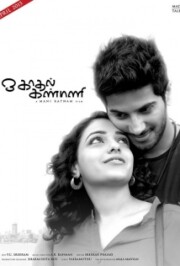 Overview of O Kadhal Kanmani Review
Cine Shore Rating:
3.0 For Romance Lovers.
PLOT – O Kadhal Kanmani Tamil Movie
Adhi [Dulquer Salmaan] is a game developer who moves to Mumbai, where he meets Tara [Nitya Menen]. Both of them don't believe in conventional life of getting married and so and so. But as their relationship keeps growing both of them faces a complex situation to decide their future.
PERFORMANCE – O Kadhal Kanmani Film
Dulquer Salmaan is cool as a flirty dude. His costumes and styles are once again attractive and he does an overall good job. His Tamil is as good as any mainstream Tamil actor. Nitya Menen is charming as the Lady love and she too does gets a few scenes to perform which she comfortably does. But looks quite odd in few costumes. Prakash Raj and others are faithful to their roles.
STORY – SCREENPLAY – DIRECTION – O Kadhal Kanmani
There's nothing new in the storyline here. It's all about the confused relationship's state seen in youngsters which has been dealt many times on screen. The screenplay is neat in the first half with some original scenes and the crackling chemistry between the leads. But second half lacks much drama and thus scenes looks ineffective and plain. The scene was both the leads search for Prakash Raj and his wife towards the climax is one such. Dialogues are good, especially the ones written for the leads. Direction is fine.
TECHNICAL DEPARTMENT – O Kadhal Kanmani Tamil Film
It's Rahman, who should be given the most credits for his striking background scores after composing some good songs. Even some plainly written scenes are elevated by his scores. P.C Sreeram is another hero of the movie who captures the busy Mumbai City with all beauty. His works get best during the song sequences. Editing is okay.
ANALYSIS – O Kadhal Kanmani Tamil Film Review
The film has an ordinary start, but gets engaging after a while, leading to a promising interval. Second half starts nicely, but the lack of any drama and predictability in the screenplay later makes things quite tedious and ends up asking more. Still, what holds the movie is the lead pairs who makes the screen looks lively. Overall, it is an above average fare, which misses the magical Mani Ratnam touch.