Munnariyippu Malayalam Movie Review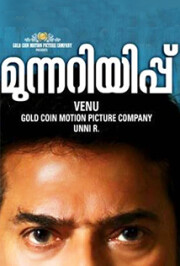 Overview of Munnariyippu Review
Cine Shore Rating:
3.5 A movie which grows on you.
PLOT – Munnariyippu Malayalam Movie
Raghavan (Mammootty) is an ex-convict for a double murder of two ladies. Meanwhile a freelance journalist Anjali (Aparna Gopinath) come across him and gets curious about his personality. Thus, she sets to investigate his past life.
PERFORMANCE - Munnariyippu Film
Mammootty as Raghavan is riveting and this is undoubtedly one of the best characters by him recently. The actor who gets a serious character throughout delivers it with his nuances and body language. His dialogue delivery is also brilliant. Aparna Gopinath gets a very meaty role and she is very much comfortable in it. She is very much fortunate to get a good amount of screen space and utilities it very well. Ranji Paniker, Joy Mathew, Nedumudi Venu, Kochupreman are all good in their roles.There is a sweet little guest appearance by Prithviraj in the later half.
STORY – SCREENPLAY – DIRECTION – Munnariyippu
The film has a very good story-line (By Venu) which is missing in most of the movies today. It is honest and hard hitting. Screenplay is decent and engaging and the there are no scenes irrelevant or forced. Still a more tighter writing was required in order make it a great watch. Direction is very good and you can see the experience of a veteran technician like Venu with Munnariyippu. But the highlight of the movie is brilliant dialogues. There are witty ones and philosophical ones and thus plays a major role in the film.
TECHNICAL DEPARTMENT - Munnariyippu Malayalam Film
Venu himself has done the cinematography and this time it is very good with most of the shots having a realistic appeal. The dark shade in the film has helped it to carry the curiosity factor. Editing by Bina Paul is good and the length (Less than 120 minutes) is perfect for a film like this. Bijibal's background score is haunting at most places. The locations are also very much matching to the sequences. This technical side has helped the movie look more like a mainstream film rather than a serious one.
ANALYSIS - Munnariyippu Malayalam Movie Review
First half of the film introduces the major characters and sets a good base. Second half is engaging and the dialogues also keeps you interested towards the narrative leading to a shocker climax. This is where the movie reveals everything about the movie and need a your whole brain to connect things. There is no spoon feeding for the audience here and will require your senses to understand it. On the flipside the movie takes its time to enter into the core element of the movie (in climax) and this may lead to some slow down in the second half for the normal audience, and the climax could have been explained a bit more so that the majority of the audience could have got well with it. Overall it's not a great movie or a masterpiece, but a very good movie with some brilliant performances and relevant issues. Watch it.