Loham Malayalam Movie Review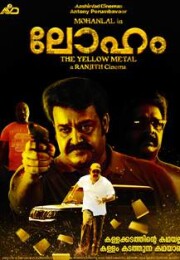 Overview of Loham Malayalam Movie Review
Cine Shore Rating:
3.0'Watchable but…?'.
PLOT – Loham Malayalam Movie Review
Raju [Mohanlal] is a cab driver who is called up by Jayanthi [Andreah] for a day. In the meantime, there happens an accident in Gulf and there is a smuggle related to this. How these things connect the character forms Ranjith's Loham.
PERFORMANCE – Loham Malayalam Movie Review
Mohanlal is definitely the biggest pillar strength of the movie with his trademark histrionics in first half and his colossal screen presence compliments the film. As the films have less scope for the heroine track you have got to see very little of Andreah who is otherwise fine. Siddique entertains while Shankar Ramakrishnan, Ajmal, Joy Mathewetc. is adequate.
STORY – SCREENPLAY – DIRECTION – Loham Malayalam Movie Review
The film has an interesting plot. Screenplay in the first half is entertaining. There is a little dose of light elements with Mohanlals mannerisms and Siddique's character. On the other hand the thriller part had decent build ups leading to a good interval block. Second half is where the writer in Ranjith lacked the clarity and towards the climax, few things looks like messed up. Now climax is the decider of these kind of thriller and here it is quite a predictable stuff and Ranjith goeson a tried and tested path. Meanwhile, his direction is quite good.
TECHNICAL DEPARTMENT – Loham Malayalam Movie Review
The film's cinematography is neat and the richness is projected in most of the episodes. Editing is improper towards the climax. Re recording is average.
ANALYSIS – Loham Malayalam Movie Review
The film definitely had a mood of a thriller. But seems like Ranjith was confused with the narration whether to tell the tale subtly or to narrate it with a punch. Thus, one gets a mixed feeling at the end. But otherwise Loham is watchable enough for the smooth first half and passable second sans the climax.