Lailaa O Lailaa Malayalam Movie Review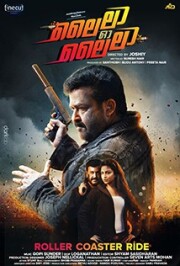 Overview of Lailaa O Lailaa Review
Cine Shore Rating:
2.25 A bad mission
PLOT – Lailaa O Lailaa Malayalam Movie
Jaymohan (Mohanlal) is a divorcee and an undercover agent who has just married his longtime beau Anjali (Amala Paul). Jay, who works under Satyaraj cannot guise his identity to his wife and goes through a complex situation of managing his personal and professional life. On the other hand, he has got the duty to unlock a terror attack kicking off from Bangalore.
PERFORMANCE – Lailaa O Lailaa Film
First of Mohanlal, himself looks dull in the lead role, even after his character needs to be reactive and high on energy. May be because of the poor characterisation, but that's the fact. The only portions where he at least came into form where those light scenes, which are few, very few. Amala Paul has given one of her career worst roles and the same comes as performance. One could see a seasoned actress like her struggle to complete her amateurish character. As a result the worst portions of the movies revolve around her. Satyaraj is quiet wasted in a clichéd wanna be cool boss of the team. Joy Mathew comes once in a while and leaves as soon as possible. The film also has a league of 'menacing' villains who are mere caricatures done to evoke laughter among the audience who are tired watching the serious proceedings.
STORY – SCREENPLAY – DIRECTION – Lailaa O Lailaa
The story of the movie is as old as the evolution of action films. Same with the screenplay. One would go into shock after hearing that this guy Suresh Nair, has co-written some impressive flicks like Kahaani, D-Day etc. Dialogues are another biggest negative. Joshiy carries the movie from where he ended Salaam Kashmir, where he assembled many illogical scenes with tech's and chips. Still, he does a neat job in handling other scenes and a couple of actions.
TECHNICAL DEPARTMENT – Lailaa O Lailaa Malayalam Film
A film which is said to be one the lavishly made action flicks in Malayalam, can't boast of anything from the technical front. Gopi Sundars background scores get into a mediocre level despite of the few decent tracks. Loganathan's shots are fair, but lacks the much needed richness. Least can be said about editing. Production values are good in a few areas, but disappoints at rest.
ANALYSIS – Lailaa O Lailaa Malayalam Film Review
To be least critical, first half of the film is somehow passable even though you have to sit through an uninspiring romance track and ineffective screenplay. But in the second half things becomes painful and boring. There are few celebrations of cliches like password cracking and bomb diffusion and ends upon unintentional laughs. Overall, it is a forgettable flick from a team which promised a tight thriller by spending huge serious bucks. Only reliefs are few action portions and some nice episodes here and there.