Janatha Garage Telugu Movie Review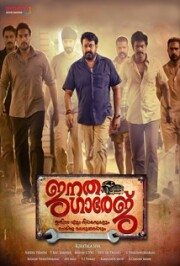 Overview
Cine Shore Rating:
2.5 An Above Average flick!

PERFORMANCES – Janatha Garage Telugu Movie Review
Janatha Garage as already known is a star studded film with two of the big stars south uniting. Ntr looks stylish and his character has a fresh angle. He has done well in emotional scenes too. Mohanlal gets a meaty role and the whole movie revolves around him and his garage. There isn't much for him to perform but his presence is one of the lifeline for the movie. Unni Mukundan's character is the weakest of the lot and his villainy doesn't make an impact, so is Sachin Khadekar. Samantha and Nitya Menon doesn't have much to do in a hero centric movie, but they does their job. Rest of the cast is fine.
STORY – SCREENPLAY – DIRECTION – Janatha Garage Telugu Movie Review
Basic storyline of the movie isn't that strong, as there is a sense of dejavu of many films. Thus it needed a tight screenplay. But here it was pretty mediocre in the first half. However, it gets better in the later half. Direction is neat.
TECHNICAL DEPARTMENT – Janatha Garage Telugu Movie Review
Thiru's cinematography is top notch with perfect lightings and shots. The visuals during Rock On Bro song is a treat for eyes. Devi Sri Prasad's songs are okay but the background scores are very good. Editing is fine.
ANALYSIS – Janatha Garage Telugu Movie Review
The film starts quite well, but becomes weak without much entertainment or engaging factors. It is towards interval the film shows some promise. An average first half. Second half starts of well with a good mass block and is somewhat better than the first.Still the last 20 minutes or so could have been better as it looks rushed.Overall Janatha Garage is an above average movie with decent commercial values.