Ivide Malayalam Movie Review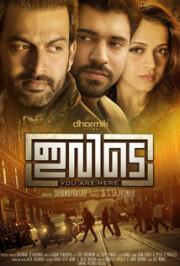 Overview of Ivide Malayalam Movie Review
Cine Shore Rating:
3.0 Decent flick.
PLOT – Ivide Malayalam Movie Review
A series of murder happens in the jurisdiction of cop Varun Blake [Prithviraj] and one particular case of an Indian citizen there has something to do with Varun. Meanwhile Krish Hebbar [Nivin Pauly] is the next to be C.E.O of Infotech, which is an IT based company in the same city of the U.S. What connects these two people and who is the murderer completes Ivide.
PERFORMANCE – Ivide Malayalam Movie Review
Prithviraj is suave as Varun Blake. From looks to body language he has done a good job. But it is looking quiet repetitive as he plays a cop with a bad past. Nivin gets somewhat a challenging character and he does justice apart from his mediocre accent, a department were Prithviraj scores. Bhavana is impressive while the supporting artists does their part well.
STORY – SCREENPLAY – DIRECTION – Ivide Malayalam Movie Review
Though the film is projected as a thriller, it's more of emotions. Moreover, it deals with many other issues like racism, employment conflicts etc in a slight dose, but none of them are explained well. Dialogues are well written and conveys the emotions at times. Direction is fine though slow.
TECHNICAL DEPARTMENT – Ivide Malayalam Movie Review
Eric Dickinson's photography is too good and you hardly feel like watching a Malayalam movie visually. Gopi Sundar does a decent job with his music scores. Editing by Manoj is alright. Producers should be appreciated for having no compromise on production values for a less commercial film like this.
ANALYSIS – Ivide Malayalam Movie Review
The film extends slow but steady to an with decent writings and somewhat well etched characters. One has to be patient and involved in films like this which relies more on emotions. Ivide is no exception which also needs such attention from the audience so that it offers a decent watch. But expecting something extraordinary may hamper the watch as the film lacks a more strong content and tight screenplay.