I Tamil Movie Review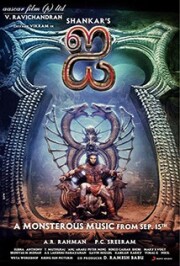 Overview of I Review
Cine Shore Rating:
3.0 Ambitious and satisfying..
PLOT – I Tamil Movie
Lingesan [Vikram] is a small town guy who dreams of become a Mr.Tamil Nadu and later Mr.India. He admires a model Diya [Amy] and when he meets her, Lingesan is lead to a bigger world and what happens to him later is said in 'I'
PERFORMANCE – I Film
As expected its Vikram all the way. He is lovable as a normal guy and excels in hunch back character. It is quite challenging for an actor in this kind of character driven films and Vikram's efforts have really paid off at least for his character. Even his dialogue modulations deserved appreciation. Amy looks gorgeous as the female lead and she has performed well. Suresh Gopi plays an important character and he has done a good job. Upen Patel, Santhanam and others are fine.
STORY – SCREENPLAY – DIRECTION - I
Story of the film is quiet simple and weak when we look as a Shankar product. Still he is able to spell some sparks here and there. Screenplay is neat but remains predictable sana for few scenes. What works once again is Shankar's presentation. Keeping a straight revenge plot he gains all the sympathy for his lead character and that's the USP of 'I'. Still one expects a better screenplay from a showman like him especially in the first half.
TECHNICAL DEPARTMENT – I Tamil Film
It is a well known part in any Shankar film that he leaves no stones unturned in technical front, 'I' is no exception. P.C Srirams cinematography is brilliant and those during China portions are kickass visuals. A.R Rahman's songs are just good but background scores could have been lot better. Editing is one part where the team should have taken care of. The initial half should have been crisper as the scenes looks stretched and repetitive. Art direction and locales are splendid.
ANALYSIS – I Tamil Movie Review
'I' is a revenge flick executed in a different way and when considered as a Shankar flick it is not his usual style. But still he manages to pack a good product overall. First half is quiet average with few comedies and rich visuals being the saviour. But it gets better in later half and works well till climax. The sentiment's, romance and revenge portions becomes the major pluses with the splendid visuals. Overall its nor a great film neither it has the usual Shankar mark, but still succeeds as a film. If the editing was crisp and screenplay was better, this one also would have been one of the bests from Shankar. Nevertheless, it is something to he watched from big screen for the lead character and a good packaging.