Hotel California Review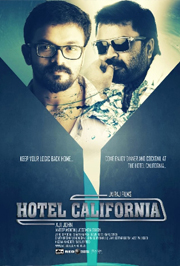 Overview
Cine Shore Rating:
2.5 An average entertainer which is good in parts.
Anoop Menon is a brand in Mollywood as far his scripts are concerned. Despite a disappointing 'David & Goliath', Anoop's script is definitely a hit in the market. Director Aji John teams up with buddies Anoop Menon and Jayasurya in this comedy entertainer that has an ensembled cast.Actor Prem Sagar (Anoop Menon) has just acted in a film titled 'Hotel California' which has hit the screens. Piracy is on the rise and pirated CD's of the film become the talk of the town. Airport Jimmy (Jayasurya) is a gangster who is supposed to supervise the smooth travel of the pirated CD's from the Gulf which is supposed to be brought by Rafeeq (Saiju Kurup). Jimmy manages to kidnap Rafeeq but soon a series of confusions arise with a series of characters getting stuck in this like Bharat Chandran IPS (Joju George) and Aby Mathew (Shanker). The rest of the film deals with the how the different characters sort out the mess leading to an interesting twist in the end.
Hotel California is Anoop Menon's homage to the Priyadarshan comic capers of yesteryear, but he hasn't quite succeeded in it. There are some light moments in the script, but it isn't consistent enough to entertain the audience till the end. Anoop Menon doesn't have much to do while Jayasurya looks intimidating in his role. Joju and Shanker are terrific as they bring the house down with their comic timing which is spot on. The music of the film is good and so are the BGMs.
On the whole, Hotel California is an average entertainer which is good in parts. It is not a film that everyone will enjoy though there is an entertainment in it.
Rating: 2.5/5