Ennum Eppozhum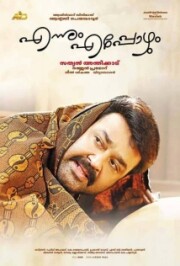 Overview of Ennum Eppozhum Review
Cine Shore Rating:
3.0 Over Dependent on Mohanlal.
PLOT – Ennum Eppozhum Malayalam Movie
Vineet. N. Pillai [Mohanlal] is a staff working for a leading publishing house. He is not so punctual in his profession and thus have to go through many criticisms from the management. As a breakthrough he see's a potential subject of a lady advocate [Manju Warrier] and set's out to get her interview. What happens to him from then forms Ennum Eppozhum.
PERFORMANCE – Ennum Eppozhum Film
Mohanlal is likeable in his light character. Though it's nothing sort of a challenge to the great actor, he carries a charm as Vineet. His humours works for most of the time and doesn't get overboard even though few situations goes. In short, he carries the movie for the major running time. Manju Warrier impressed everyone with her comeback machine 'How Old Are You', but this time around she shines hardly. In fact, her role doesn't have such angles, but her presence is felt. Tole doesn't have such angles, but her presence is felt. There are some forced elements like a song just for portraying her dancing abilities and unsurprisingly, she does a nice job there. Jacob Gregory is entertaining as a sidekick. Ranji Panicker does a funny cameo and he does his job. Innocent, Lena, Reenu Mathews etc. are fine.
STORY – SCREENPLAY – DIRECTION – Ennum Eppozhum
Sathyan Anthikkadu was known for subject selection and narrating it beautifully in the past. But lately we could see just as a shadow if him as a storyteller who manages to get a pass mark with the help of his long going family audience. Same happens with 'Ennum Eppozhum'. The story is provided by actor 'Raveendran', but don't ask whether it's valuable or not. Then there were lots of expectations on Ranjan Pramod who wrote two superb scripts for the director in 'Achuvinte Amma' and 'Manassinakkare'. But this time he too does a less satisfying job. Looks like he was just writing it on the lines of the director's previous works. But what works in favour for the movie is humour which is a mix of situational ones and forced ones. This may please you with Mohanlal been taking the centre stage. The director also see's some cute moments in his child artist and these also ends in pleasing you, but again, there are that usual moral studies and age old template characters of the director like Innocent.
TECHNICAL DEPARTMENT – Ennum Eppozhum Malayalam Film
The intention is clear here. There is a director who has a loyal target audience, there is a heroine who just got a nice comeback and there is an actor who can execute things with his ease. To make things easy there is the vacation season. Thus the makers wanted to get a story as a formality, rush up a screenplay and get ready with the project for the season. Ennum Eppozhum falls right here. The film starts interestingly with some situational comedies and the Mohanlal character we like. Even without any great moments he carries the movie on his shoulders most of the time with small support from his sidekicks. Then there are some feel good moments in the flick like Vineet's memories about his mother and his needy support to Manju's character. These things work if you take things lightly and the makers are too demanding that from the audience. But looking for a great team you can't blame the audience for taking it seriously. If you fall into the second category, it may disappoint you. If the expectations are right, if you like Mohanlal, you may enjoy the movie to an extend.