Ennu Ninte Moideen Review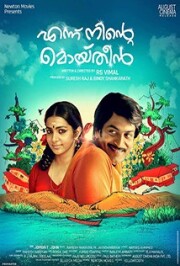 Overview of Ennu Ninte Moideen Malayalam Movie Review
Cine Shore Rating:
4.0 A beautiful emotional ride.
PLOT – Ennu Ninte Moideen Malayalam Movie Review
Based on the real life story of Kanchana and Moidheen, which happened in Mukkam [Kozhikode] during the 1960′s , it goes through their different time periods besides discussing the political air in the locality.
PERFORMANCE – Ennu Ninte Moideen Malayalam Movie Review
It is one of the best performances from Prithviraj till date. His character isn't much expressive. But the difference came in the form of his physical appearance, maturity in controlling the character and holding the character from being out of reality [ Being a real life character]. Parvathi would be the best thing happened for this film who also comes out with one of her many bests. Thanks to the director for writing an equally important character for his female lead also. One cannot think about any convincing replace for Parvathi for this character. Lena is another show stealer who packs a punch in her brief role. So does others like Sai Kumar, Shivaji Guruvayoor, Bala, Tovino, Sudheer Katakana etc, who also brings out their best.
STORY – SCREENPLAY – DIRECTION – Ennu Ninte Moideen Malayalam Movie Review
The film is more of an inspiration rather than a biography of the real incidents. The debut director Vimal finds a great potential in the unsung love story, which actually is and executes it in a mainstream style rather than a realistic take on the incidents. For majority of the runtime the writing and narration are filmy but in a good way. It is definitely a challenge for any writer to say a real life known story in a filmy way. Because it may get trapped in melodrama being an emotional tale and that's where Vimal scores by presenting it in a straight forward way with enough commercial pay offs. Its a deliberate move from him to keep it safe from being a one dimensional serious film. Now it caters to every audience and the sweet news is that it is done without missing the essence. Dialogues are another USP of the movie which are sharp and touching. Direction is impressive and you could hardly find any errors.
TECHNICAL DEPARTMENT – Ennu Ninte Moideen Malayalam Movie Review
Before commending on the technical team, the producers of the movie should be appreciated for getting the best technician's on board without worrying on the budget. Among the technicians it is Joemon who walks away with more grades for his beautiful cinematography. The angles, colour tones and the frames are picture perfect. Not so behind to him is Gopi Sundar who once again gave that extra life for the movie like he does every time. Editing is alright but the the length could have been trimmed a bit. Production values are very good.
ANALYSIS – Ennu Ninte Moideen Malayalam Movie Review
The film takes off decently but gets better with the romance episodes taking the centre stage. Before the romance goes overboard the film soon takes an emotional turn and the films best episodes remains here. Emotions are carried out very well without any overdose still touching your heart. On the flipside the film has a pace variation in later part of second half due to its length and slow narration. But those can be compromised as the base story is so strong and the actors are busy giving brilliant performances. Don't miss it…!