Boss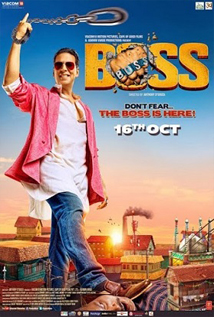 Overview
Cine Shore Rating:
2.5 The Boss is not always right, but alright.
Plot : As we are aware it is the remake of the runaway hit Pokkiriraja (2010) . Its all about a son who is labelled as murderer before becoming a goon and his bond between his brother and father.
Performances : As the title and promos says it is a tailor made character for Akshay Kumar and he delivers it to the best. He plays completely to the galleries as a lovable son/brother and a crazy goon. And what makes things better is that he is not as loud as in his recent outings making the character enjoyable for even general audience. Midhun Chakraborthy is good as the father. Shiv Pandit looks convincing in the brother character. Danny Danzongpa once again reprices his typical mentor role and he is perfect. Aditi Rao doesn't get much screen presence but she is okay.Lot was expected from Ronit Roy as the villain and he is excellent as the cruel cop. Sonakshi Sinha did a cameo. Shakti kapoor's role could have been chopped off. Rest of the cast is fine.
Tech dept : Technically it is grand with brilliant cinematography , Peppy songs and syncing bgm's. Though a remake there has been enough changes made to cater the bollywood audience.But there are some cliched episodes which hampers the overall entertainment . Antony Dzousa who debuted with a forgettable Blue this time does a quiet decent job. Still it could have been better at times.Fights are executed well and a chase scene in second half stands out.
Analysis : It begins quiet nicely by introducing the characters and slowly build ups to the much awaited introduction of the Hero.From there on its completely an Akki show with mass dialogues and witty one liners.But the final few minutes runs on certain cliched episodes which brings down the overall fun. The father-son emotions are handled well and is better than the original. But rest of the things like the bond between brothers, the comedies and the heroism factors lacks the punch. Overall its an above fare which could have been a lot better with a little more tight screenplay.
Rating – 2.75/5