Anjaan Tamil Movie Review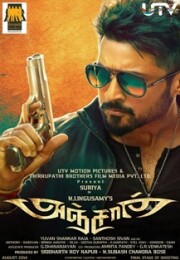 Overview of Anjaan Review
Cine Shore Rating:
2.0 All style and no substance.
PLOT – Anjaan Tamil Movie
Krishna (Suriya) comes to Mumbai in search of his brother Raju a.k.a Raju Bhai but gets into some troubles from his opponents until he finds Raju and his past.
PERFORMANCE – Anjaan Film
Suriya looks ultra stylish as Raju Bhai and this will be definitely one of his best on screen appearances. Performance wise he has done justice to his role. Samantha looks gorgeous but her role has nothing to do with the story. Vidyut Jamwal is quiet underutilized and one expects more of a showman like this. Manoj Bajpai, Soori etc. are fine
STORY – SCREENPLAY – DIRECTION – Anjaan
Story of the movie is quiet mediocre. When you expect a stylish gangster flick, Anjaan remains as a usual revenge flick infused with a different narration. The screenplay is decent is first half but later becomes predictable and lagging. Direction is neat.
TECHNICAL DEPARTMENT – Anjaan Tamil Film
If something remains with you after the movie it will be the brilliant cinematography of Santosh Shivan and Yuvan's background score. Both of them have given their best for Anjaan. The editing could have been better and the length goes stretched. Production values are top notch.
ANALYSIS – Anjaan Tamil Movie Review
A lot was expected from Suriya and Lingusamy but frankly they disappoint with Anjaan. Neither Lingusamy has a good content nor Suirya can save the loopholes in the screenplay. The first half is decent with a good interval bang but things get stretched and laborious in the second half testing the patience. Overall it is a quiet a disappointment for a potential team apart from the Santosh Shivan's camera works and Yuvan's scores.