Acha Din Malayalam Movie Review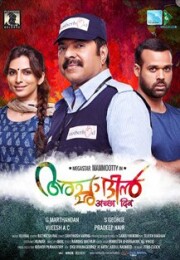 Overview of Acha Din Malayalam Movie Review
Cine Shore Rating:
2.0 Not so 'Acha Din'.
PLOT – Acha Din Malayalam Movie Review
Durga Prasad [Mammootty] and his wife Sheethal [Mansi Sharma] is northies who are settled in Kerala from years. Their wish to have a child is finally blooming, but with some difficulties. Durga has to arrange some amount in the short run as his wife has to be operated. While he starts his run for money, accidentally he encounters a terrorists trio and what follows is said in Marthandan's Acha Din.
PERFORMANCE – Acha Din Malayalam Movie Review
Acha Din is one money where you can see major percentage of artists performing awfully. Mammootty is the only saviour in the movie who contributes the very few sequences which are watchable apart from looking dull in certain places. The film also fails in casting department where even the three baddies look unintentionally funny. Padmaraj, son of late Ratheesh, is a big miscast and the same is with few other major character's too. Debutant heroine has nothing much to do. Kishore is wasted. The same can be said about Ranji Paniker, Maniyanpilla Raju etc.
STORY – SCREENPLAY – DIRECTION – Acha Din Malayalam Movie Review
Though writer Vijeesh wanted to pick up a relevant subject, but failed to bring a strong plot. After starting with a subtle Emmanuel, looks like he wanted to make it into serious writing but fails miserably. It is cliched, ineffective and 'funny' at places. When you handle a serious subject you need have a tight work from the director, but Marthandan couldn't handle it anywhere. Dialogues are poor.
TECHNICAL DEPARTMENT – Acha Din Malayalam Movie Review
There's nothing the film can rave about technical side apart from few engaging background scores. The cinematography is ordinary while the production values are poor.
ANALYSIS – Acha Din Malayalam Movie Review
Acha Din after all said negatives is not a torture, or a nightmare, but has nothing interesting for the audience other than few scenes and a decent Mammootty. A subject like this should have few interesting turns or emotions and a tight direction. But as these departments fail it ends up as a below average fare which can be skipped.