8:20 Malayalam Movie Review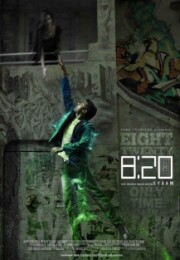 Overview of 8:20 Review
Cine Shore Rating:
3.0 Different Attempt .

PLOT – 8:20 Malayalam Movie
Shyam (Arjun) and Ruchi (Avantika) are long time lovers and they are getting married soon. But destiny had something different for them and a series of incidents give them a testing.
PERFORMANCE – 8:20 Film
Performances : Arjun Nandakumar does a neat job as a guy who is in a desperate situation. Avantika is average and she has to improve a lot in every department. Biju Kuttans comedies looks forced and he irritates most of the time.
STORY – SCREENPLAY – DIRECTION – 8:20
The plot of the film is quite experimental and the debutant director does a neat job. He needs a bit of applause for trying an experimental subject, but the inexperience in writing and the comedy track pulls the film from becoming an impressive one.
TECHNICAL DEPARTMENT – 8:20 Malayalam Film
The cinematography of the movie is quite good and it stands out in couple of songs. There is a song in the movie which is said to be picturized in a single shot and that has been done interestingly. Manu Ramesh's songs are breezy and the one sung by Sonu Nigam is the pick of the lot.
ANALYSIS – 8:20 Malayalam Movie Review
8:20, being an experimental work and first time approach from the director, has done justice to an extent but the poor casting and few hiccups in writing limits the appeal of the movie. Overall it is a decent flick but could have been better if those flaws were taken care of. Better among christmas releases.