100 Days Of Love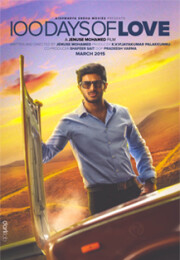 Overview of 100 Days Of Love Review
Cine Shore Rating:
3.0 Few good hours of love.
PLOT – 100 Days Of Love Malayalam Movie
Balan K Nayar a.k.a B.K.N (Dulquer) is going through a bad time as he is dumbed by his girlfriend until he see's Sheela (Nithya) and falls for her. He and his friend Ummer (Shekhar Menon) sets out to find her and what awaits them is 100 days of love.
PERFORMANCE – 100 Days Of Love Film
Dulquer Salmaan is good as a cool going high in search of his love. But it is the same character, which we have seen in his most of the films. He has an extra charm this time around and that is carried on to the movie too. Nithya is fine as the lady love of Dulquer and she too looks gorgeous on screen. Shekhar Menon is your typical side kick of hero and he entertains here and there.
STORY – SCREENPLAY – DIRECTION – 100 Days Of Love
The story of the movie is the one which has been said in most of the love stories where the hero is in search and attempt to get his perfect pair. But Jenuse, son of veteran director Kamal, does a nice job in executing in a somewhat fresh manner which has done the trick for the movie. He was clear with his target audience, being the young ones and delivers it without much damage. There is an inevitable drag in the beginning and in the second half, but at the end it is a safe landing.
TECHNICAL DEPARTMENT – 100 Days Of Love Malayalam Film
These young directors know how much impact the technical team can make in a film and 100 Days Of Love is no exception. The music is soothing and so is the background scores. Dop is another biggest asset for the movie and frames offers a feeling of watching an all new film. The editing could have been better in parts. Production values are good.
ANALYSIS – 100 Days Of Love Malayalam Movie Review
The film starts off on a low note but gets entertaining afterward. Interval block is good bringing an interest among the audience. Post intermission, there are few drags but ends on a positive note giving a paisa vasool 155 minutes. It is the chemistry between the leads, fresh narration and few good moments which makes Jenuse's debut work a neat one and so is the film