Prithviraj Again To Bollywood With A Biggie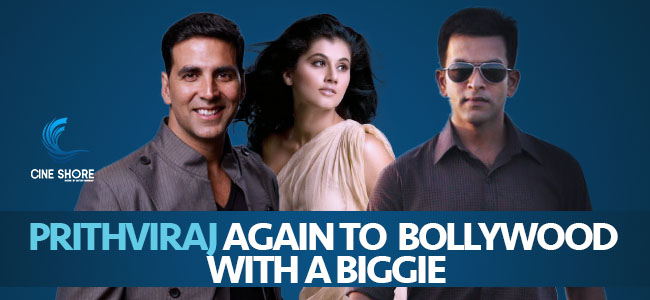 Prithviraj has been called once again by Bollywood and for a change it is a real biggie this time around. The 'Oozham' star isn't new to B – Town as he has already been a part of two Hindi films 'Aiyyaa' along side Rani Mukherjee and 'Aurangazeb' with Arjun Kapoor. Though theboth were big banner films from Viacom and Yash Raj Films, both bombed big at the box office and there wasn't much use for Prithviraj as these films became less popular among the audience.The latest is that the actor has been called once again for 'Naam Shabana' which will be a sequel to 'Baby' the Akshay Kumar Super Hit which released last year. The action thriller was not only a box office hit, but also earned a cult status among the youngsters for its thrilling writing and action blocks. The sequel will have Tapsee Pannu doing the title character 'Shabana' and it will be the same role of her from the original with just the name change. Though a female oriented flick, the movie will have strong male characters and one among that will be played by Prithviraj. Manoj Bajpayee will do another character and Akshay Kumar's role is reportedly a special one as he will have less footage this time. Though there is nothing revealed about who is playing what, the news has been officially confirmed by actress Tapsee herself during a successfunction of her successfully running 'PINK'.
'Name Shabana' will be on lines of the original with more action and thrills and Akshay Kumar claims that this will be a unique attempt in Indian Cinema and will be a surprise package. It will be directed by Shivam Nair, who has done films like Bhaag Johnny and Aahista Aahista. 'Baby' revolved around an elite team of the Indian intelligence system who were assigned to detect and eliminate terrorists and their plots in the country. Prithviraj will be looking forward big for this ambitious project which will hit the screens in the later half of next year with huge eagerness from the audience.