Pulimurugan 42 Days Collection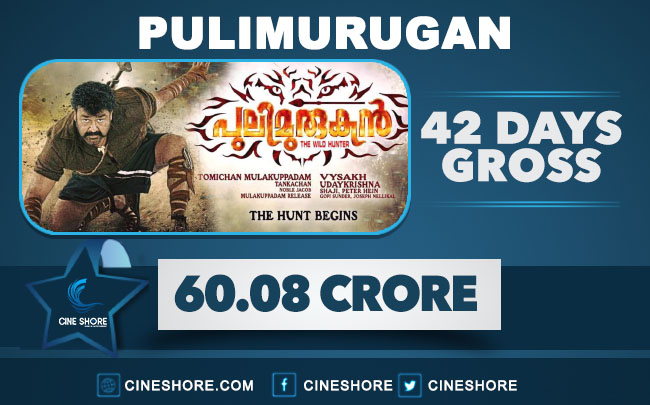 Pulimurugan 6 Weeks [42 Days] Collection
The Pulimurugan storm finally slowed a bit, because of the demonetization. The film is now doing its major business from family audience & repeat viewers and the money scarcity in the society after Prime Ministers sudden decision, effected this audience most. Even a high end multiplex slowed down, at least for a couple of days, eventhough it was to be least affected there. But the biggest difference came in single screens were business came down to below average levels. Though few main station's like Ernakulam, Calicut its held somewhat decent, the medium and small centres had its impact big time. That's the kind of impact the money scarcity had on film industries. If not for a sensation like Pulimurugan, it would have been a sudden break during this scenario. Nevertheless, the film has grossed a massive total of 60.08 Crore from its 6 week run i.e. 42 days. That is almost 20 Crore lead from the previous biggest grosser Mohanlal's own Drishyam. Here is a small comparison of each 2 weeks split up for the film and one can see how the money issues have affected it.
1st 2 weeks gross : 33.76 Crore.
Week 3 to Week 4 : 49.72 Crore.
Week 5 to Week 6 : 60.08 Crore.
The last 2 weeks gross of the film is just 10.36 Crore, thanks to the days before the money issue during this period, which also helped it to gross this 10 Crore + itself. Anyways, now things are getting back to normancy and that should help the film to sustain well over the next few weeks with steady figures. The distributor share has gone past 25 Crore mark and chances are there it can go over 30 Crore if the performance is steady over the next couple of weeks before the Christmas exam period take over even after Pulimurugan was leaked online on movie rulz. The film has done the sorts of business which can't be broken for quitea time from now. Exceptional..!
Gross : 60.08 Crore [42 Days] [Kerala]
Verdict : Industry Hit.