Kattappanayile Rithwik Roshan 14 Days Collection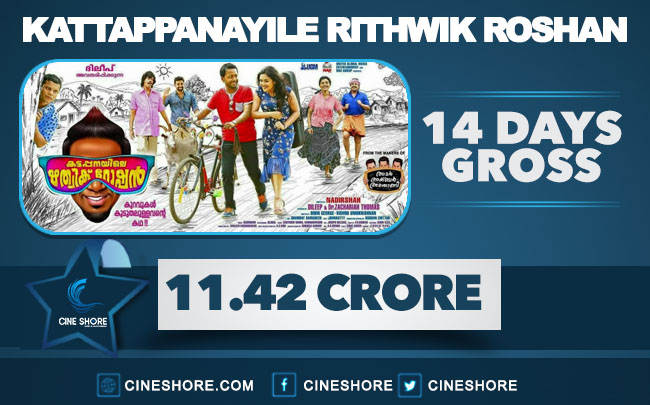 Kattappanayile Rithwik Roshan is holding well after even after the week after release complimenting its output. The film had good word of mouth from day one and the entertainment quotient has done the rest. It was quite a surprise that it took an opening equal to star films like Jayasuriya despite of a new face. The film didn't have a hit music or so to attract the crowd, but the brand Nadirsha and his Amar Akbar Anthony team made so good impression among the audience with their debut film which in turn benefited Kattapanayile Rithwik Roshan. The film, which took a gross of 4.30 Crore from 4 days held well over the weekdays with normal drops and performed even better over the second weekend. It has now grossed around 11.42 Crore from its first 2 weeks, i.e. 14 days and will cross the 15 Crore mark for sure from now.
What makes its business even sweeter is that it has performed this way in a period where the currency issue is still to end. If the movie could attract crowds even then its just because of the merit of the film. The distributor share of the movie has gone past 5 Crore mark which is superb for a movie of this size. If it could hold on for the next coupleof weeks a 7 or 8 Crore share is possible which will make it a blockbuster. But there is exam seasons coming around the corner and that should be the only challenge for the movie as there is no good releases till Christmas season. A decent hold during these weeks will help it gather a bit more business during Christmas holidays which is usually a very strong performing season for movies. On the other side Kattappanayile Rithwik Roshan crossed the 1 Crore mark at the elite Kochi plexeswithin just 10 days, which is also another example of its strong acceptance. The film has thus performed well across the audience classes regardless a popular star.
Gross :11.42 Crore [14 Days][Kerala]
Verdict : Superhit.