Top 5 All Time Grossers In Kerala Box Office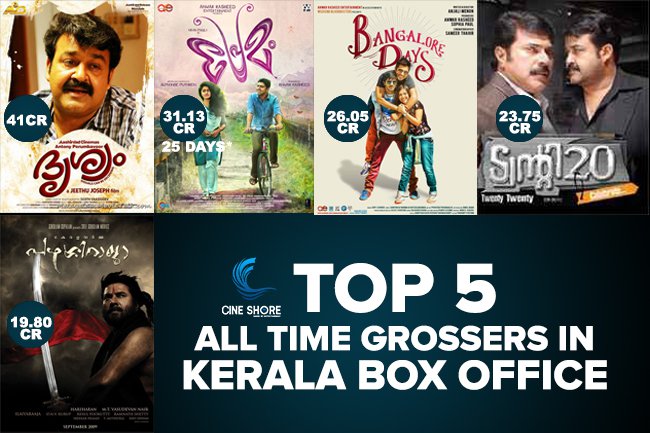 It has been a million dollar query regarding the top grosser of Malayalam and we have tried our best to compile those. For starters Malayalam trade doesn't consider collection from B and C centres as they aren't generally released simultaneously. Also, in certain B and C films are given on fixed hire basis which aren't possible to track. Moreover, our trade generally takes only the Kerala figures as the rest of the areas like Rest of India and foreign markets are only a matter of assumptions and round offs for most of the movies. Thus, in simple words these are gross only from Kerala and that too from 'A' centres only.
1. Drishyam [2013] – 41 Crore.
2. Premam* [2015] – 31.13 Crore [25 Days]
3. Bangalore Days [2104] – 26.05 Crore.
4. Twenty 20 [2008] – 23.75 Crore.
5. Pazhassiraja [2009] – 19.80 Crore.