Top 5 All Time Grossers In Kerala Box Office [New Update]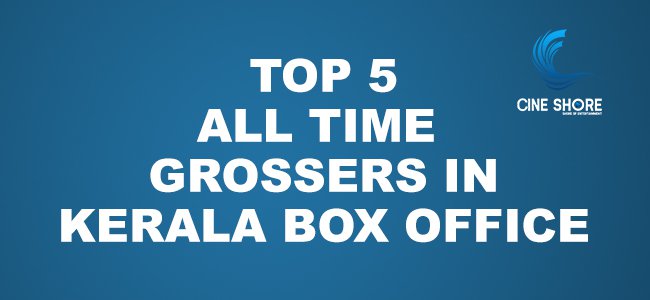 1. Drishyam [2013]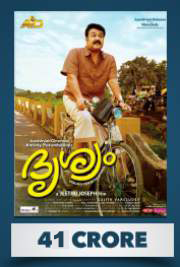 Cast : Mohanlal,Meena
Director : Jeethu Joseph
Released on Christmas 2013, Drishyam went on to break all existing records in Malayalam industry in terms of lifetime business and long run. Finally the 2008 sensation Twenty 20′s long standing Industry Hit status was smashed and we had the new one which not just broke the record but went on to lead by a mile.
Gross :41 Crore
2. Premam [2015]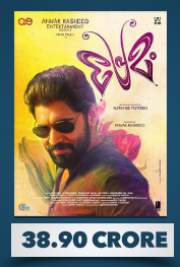 Cast : Nivin Pauly, Anupama Paramaeshwaran, Sai Pallavi, Madonna Sebastian
Director : Alphonse Puthren
One more film, which neither had expectations to become a next big thing. But post release, the romantic entertainer went on to become a mania not only in Kerala, but also in the neighbouring states. Nivin Pauly attained his much needed stardom and stepped the ladder to the big league within a very short span. The monsoon came, Ramzan fasting period came but nothing could stop Premam its run until its pirated print came which created quite a ruckus at that time. The film, which was expected to make a business more than 45 Cr from Kerala alone, thus fell short of Drishyam too after a dream run.
Gross :38.90 Crore
.
3. Ennu Ninte Moideen [2015]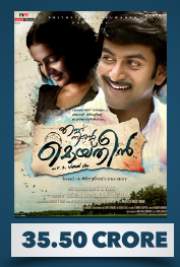 Cast : Prithviraj, Parvathy
Director: R. S. Vimal
Finally, it was time for Prithviraj to score big at the box office who didn't have the much needed solo big hits, though he owned films like Classmates. It took time, but was worth it as it not only made money, but also remained king in content receiving laurels from the audience all over. The period drama which was based on the famous Moideen and Kanchanamala's real life incidents did make one record for sure as it became the highest grosser in Malabar territory beating Drishyam and Premam due to its regional content advantage.
Gross :35.50 Crore
.
4. Two Countries [2015]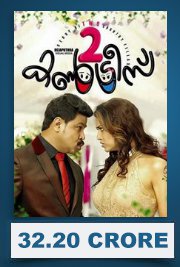 Cast : Dileep, Mamta Mohandas.
Director : Shafi
After few setbacks, it was time for Dileep to roar in box office, who is the most consistent star down the years with money spinners in regular intervals. As it was for Shafi, who was also in a setback after being one of the most sorted after director couple of years back. This comedy entertainer concluded the year 2015 with a bang which saw many big hits. The film also became in overseas as it retained no. 1 spot in few countries beating Premam and Drishyam, a rare feet for a Dileep flick.
Gross :32.20 Crore
.
5. Amar Akbar Anthony [2015]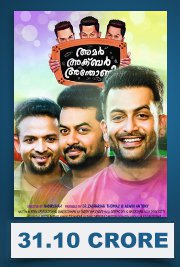 Cast : Prithviraj, Indrajith, Jayasuriya, Namita Pramod
Director : Nadirshah
It was not one, but two All time blockbusters for Prithviraj, that too consecutively who was on a vengeance at the box office. Though amultistarrer, the film got benefitted mostly from Prithviraj's ongoingsuccess and the perception among the audience. Veteran comedian Nadirshah made a dream like a debut as his first film itself broke into the big list. The film could have been done little more business if only it had a good gap with Prithvirajs tight release schedules with 3 movies releasing within 3 months splitting the business opportunities.Nevertheless, Prithviraj became the star of the year.
Gross :31.10 Crore
*Only Kerala Collection