Top 10 Malayalam Grossers At USA Box Office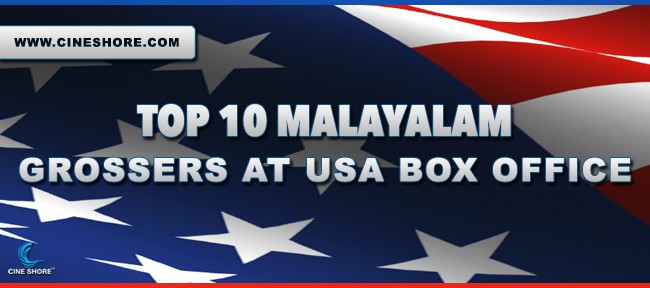 Be it USA, UK, GCC or wherever it be, Pulimurugan has shown no mercy in the Overseas box office too and yesterday it went past Premam at USA box office which topped the list with a good lead. Here is the updates top 10 grossers at US box office with gross in US dollars and Indian rupees.
Note : Dollar rates taken as at the time of the films release.
These are the figures from Rentrak and there are few screens which are not tracked by them and the same applies for every movie out there.

Pulimurugan : $ 236,370 (₹ 1.60 Crore)

Premam : $ 235,955 (₹ 1.49 Crore

2 Countries : $ 190,136 (₹ 1.27 Crore)

Drishyam – $ 176,095 (₹ 1.09 Crore)

Action Hero Biju : $ 128,901 (₹ 88 Lakhs)

Bangalore Days : $ 126,964 (₹ 75 Lakhs)

Ennu Ninte Moideen : $ 121,948 (₹ 79 Lakhs)

Jacobinte Swargarajyam : $ 119,158 (₹ 79 Lakhs)

Oppam : $ 93,209 (₹ 62 Lakhs)

Charlie : $ 90,697 (₹ 60 Lakhs)