Vikramadithyan Malayalam Movie Review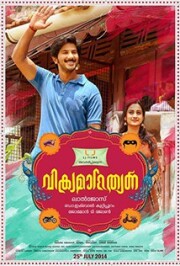 Overview of Vikramadithyan Malayalam Movie Review
Cine Shore Rating:
3.0 Old wine in new bottle.
PLOT – Vikramadithyan Malayalam Movie Review
Vikraman (Unni Mukundan), Adithyan (Dulquer Salmaan) and Deepika (Namitha Pramod) are childhood friends. The film revolves around their bringing ups, the struggles they face and the family angles between them.
PERFORMANCE – Vikramadithyan Malayalam Movie Review
Dulquer Salmaan looks confident and matured as Adithyan and has done good job during the fight scenes. Unni Mukundan, though looked uncomfortable in the first half, was fine overall. Both of them had roles with serious orientation most of the times and didn't lose the characters throughout the movie. Namita is charming as Deepika, who is the love interest of both the heroes. Lena is impressive as Dulquers mother while Anoop Menon does a good job once again. The rest of the cast are good in their respective roles.
STORY – SCREENPLAY – DIRECTION – Vikramadithyan Malayalam Movie Review
Story of the movie is nothing new and is quiet formulaic, but the screenplay is quiet entertaining with a decent mix of all ingredients like comedy, sentiments, romance, action etc. Though there are no much 'wow' moments the film succeeded in holding the interest of the audience to an extent, especially in the second half. Lal jose was able to bring all these elements to pack a decent entertainer. The first half is quiet mediocre with some stretched out flashbacks and too many songs.
TECHNICAL DEPARTMENT – Vikramadithyan Malayalam Movie Review
Johmon's Cinematography is impressive and helped the movie to maintain a consistent appeal. Bijipal's songs are pretty ordinary while his background scores elevate the movie at times. Editing is okay. Production values are neat.
ANALYSIS – Vikramadithyan Malayalam Movie Review
The first half of the film is just average with pro-longed flashbacks and too many songs. But it gets momentum in the later half. There is a nice twist towards the climax which saved the film from predictability. Even though the story is age old Lal jose and his writer succeeded in getting the right emotions. Overall, Vikramadithyan isn't a great movie or an exciting cinematic experience, but gets the formula quiet well. Decent entertainer.