Vegam Malayalam Movie Review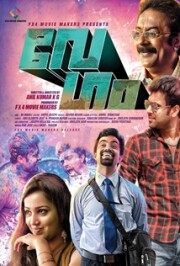 Overview
Cine Shore Rating:
2.5 'Vegam' remains only in the title.
PLOT
Sidhu (Vineeth Kumar) and David (Jacob Gregory) are two friends who are struggling to lead a life with financial constraints. Thus they are forced to rob a certain amount of gold from a family for which another gang lead by Shammi Thilakan is also looking for. What follows is an inevitable cat and mouse game between them and the police.
PERFORMANCE
There is nothing remarkable to perform for any artist in the movie rather than just doing justice to what they are given. Vineeth Kumar looks cool in his new avatar and does a neat job. He has improved in maintaining a good body language and has done few neat stunts. Gregory is okay as the hero's buddy who is always engaged in a run-for-life. Prathap Pothan is decent while Samskruthy Shenoy is fine as the heroine. Shammy Thilakan resembles that of 'Vatti Raja' from Neram and he is entertaining. Looks like the new directors doesn't want to cast Jojo in any other roles rather than a cop for bringing comedies. His character here is just an extension of what he has done in 'Hotel California' and few one liners from him are hilarious.
STORY – SCREENPLAY – DIRECTION
The plot is nothing but what has been revolving around in many recent Tamil movies and few Malayalam ones itself. The cat and mouse game, a trend started by Abhinay Deo is still inspiring many new directors to follow the suit. Vegam is also no exception. Newbie Anil Kumar's Screenplay is pretty ordinary and have less sparks. Still it manages to remain average and doesn't fall apart like few early new gen flicks. Another problem with 'Vegam' is the hangover of a few recent characters we have seen in recent Malayalam films. For instance we have Shammi Thilakan and his gang who goes a 'Vatti Raja & Co.' style from Neram and there is Jojo who just does an extension of his 'Hotel California' act. But what holds the film once again is the neat direction and some funny one liners.
TECHNICAL DEPARTMENT
Manoj Khatoi who came up with a splendid work for 'Silence' does the same for Vegam. The movie has many chase sequences and Manoj captures them well without loosing the raciness. Another positive for 'Vegam' is the music composed by Govind Menon from 'Thaikuda Bridge' team. He delivers some promise with his engaging songs and background scores. Editing is alright.
ANALYSIS
First half of the movie is decent with some light moments and setting the base for the proceedings. From second half it follows a predictable route followed by a usual climax. Still it doesn't fall apart and manages to give an average watch. The lack of freshness in the plot and a predictable screenplay limits the movie from becoming a thoroughly engaging thriller. Thus 'Vegam' is all about some one liners and a passable narrative. It doesn't excite you as a thriller nor it disappoints all together.