Thira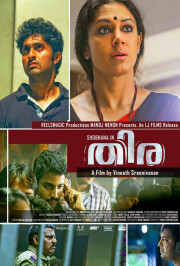 Overview
Cine Shore Rating:
3.5 Well-crafted Thriller
Plot : Two people are victims of a Human trafficking group in two different ways and destiny makes both of them fight against the culprits
Performances : Shobhana who came back to the Malayalam screen after a hiatus comes up with a brilliant performance. She is very intense and committed in a well written character. Dhyan Sreenivasan who made his debut looks very confident and leaves a lasting impression with a matured performance.All the other characters had limited screen time but does a fine job.Most of the supporting casts are new faces.
Technical Dept : Vineeth is a director who has a talented technical team, and he uses them to the fullest.Same thing goes here too. Joemon brings up some slick visuals and most of them looks natural crediting to the mood of the Film. Shaan Rahmans songs are already chartbusters and his Bgm's elevates the scenes at lot places. Editing is another asset which helped the movie get off from any drags with a limited length of 112 minutes. There are also many parallel cuts so as to keep it racy till the last which succeeds. Few dialogues are praiseworthy which are thought-provoking. Narration is the lifeline for the movie and Vineeth does it brilliantly bringing the correct pace and detailing. There are only few characters speaking Malayalam and the team should be appreciated for daring to bring such characters without any compromise
Analysis : Justifying the genre of the movie it is a thriller from the very beginning and doesn't loose up anywhere.First half is decent enough which takes few initial moments to introduce the characters. Second half is more racy and moving with lots of serious issues in the society. They just explains many of these illness in the society in a very convincing manner within the limited runtime. On the flip side few characters have slight shades of Sujoy Ghoshs Kahaani and the director compromises on some logic like two common people fighting against a mighty network. These things look cinematic which could have been said in more natural way as the whole setting of the movie is so. Apart from these small flaws "Thira" impresses and leaves the audience wanting more from the upcoming series's of the 'Trilogy'. Don't miss it.
Rating : 3.5/5