Pulimurugan Malayalam Movie Review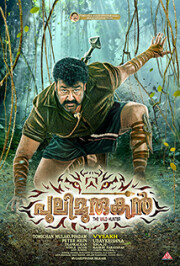 Overview
Cine Shore Rating:
3.5
Grand treat for fans.
PLOT – Pulimurugan Malayalam Movie Review
Murugan [Mohanlal], popularly known as Pulimurugan lives in a forest with his family. There comes a situation where he needs to aid his brother's friends. Where it takes him is dealt in Pulimurugan.
PERFORMANCES – Pulimurugan Malayalam Movie Review
Mohanlal has given his heart and soul for the movie, especially in the action blocks. He is equally good in fun moments too. Rural characters are one of the strong zones of Mohanlal and Vysakh has used it well. He is full of energy. Kamalini Mukherjee is okay. Lal makes a good team with Mohanlal. Suraaj, Nobi etc. is usual while Jagapathi Babu, Bala, Kishore etc does their job as baddies.
STORY – SCREENPLAY – DIRECTION – Pulimurugan Malayalam Movie Review
There is nothing new about the storyline, but the backdrop is interesting. Just like any recent Udayakrishna films, this one also travels through all predictable routes. Few leads to action blocks are well written while there are a few poorly written ones too especially in the comedy track. Dialogues have an overdose of hero praising, but that is aimed at the fans. The difference comes in the direction where Vysakh has used all his expertise to elevate the otherwise ordinary scenes.
TECHNICAL DEPARTMENT – Pulimurugan Malayalam Movie Review
This is where the film boast of. From Peter Hein to Gopi Sundar everyone has given their part well. The action blocks in the film by Peter Hein are a treat to watch with some never seen footages in Malayalam and is the highlight of the movie. DOP is impressive with few excellent forest visuals. The editing could have been better as there are some poor scenes which could be chopped off. Vfx work is satisfactory keeping in the budget limitations in Malayalam. Production values are grand as expected.
ANALYSIS – Pulimurugan Malayalam Movie Review
First half of the film is entertaining without any scope for dull moments, especially the scenes towards interval are superb. Second half also starts well with another well choreographed action sequence. But after a point the writing becomes very predictable and the weak emotions too leads to plain scenes. But again the film ends up with another kick ass fight sequence managing to end without any damages. Overall, it is more of a director's film were Vyshakh holds the film in weak portions too aided by an energetic Mohanlal. At the end it is a treat for fans and a watchable flick for others.