Nadodi Mannan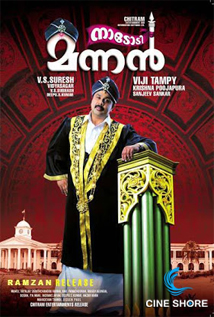 Overview
Cine Shore Rating:
1.5 Damp Squib.
PLOT : Padmanabhan (Dileep) is a guy who doesn't care about the colour of flag or persons and engages in all issues for money so as to run his family.Things changes when he is forced to become the city mayor and go against the corrupted ones in the society.How he fights against the odds and brings the justice to the people forms the rest of the story.
Perfomances : Dileep has done this role plenty of times and he looks very much repetitive and tired .There is very less space for his USP, comedy and tries very hard at many places to evoke laugh but fails. Still overall he does an okay job. Ananya irritates. Archana kavi and Mythili are decent though nothing much to do. Sayaji shined as the villain is typical and loud.Rest are fine with what they have got to do.
Technical Department : Sanjeev Shankar tries to capture things racy and he does a good job. with so many scenes going lengthy there id hardly something called editing in this. Vidyasagars songs and background musics are a big letdown.There is not even a single song which you can sit through.Story-screenplay and dialogues are completely outdated. Though the writer Krishna Poojappura tries to pass some social messages and satires there is a sense of artificiality in each scenes.Same can be said about Viji Thambi's direction.He tries to bring out laughs through slapstick ways and even tries some mass elements which looks like an amateur work.
Analysis : Nadodimannan began filming couple of years back and has been went through many hurdles till it came the daylight today and that can be seen throughout the movie.There is no fun or entertainment which one expects from a Dileep movie.A very few laughs here and there with some subtle satires are the only plus if to be men motioned. Otherwise its a complete torture and a test of patience. This can easily halt the unbeatable run of Dileep at the box office after 4 consecutive Hits.
Rating : 1.5/5