Mylanchi Monchulla Veedu Malayalam Movie Review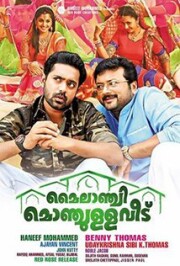 Overview of Mylanchi Monchulla Veedu Review
Cine Shore Rating:
2.5 A typical Khichdi.
PLOT – Mylanchi Monchulla Veedu Malayalam Movie
Madhavankutty (Jayaram) is in love with a Muslimgirl Wahida (Kaniha). Seeing their union impossible, both elopes on the day of her marriage. Meanwhile, her father (Siddique) is paralysed and now Madhavankutty enters their house with a wrong Idendity in the name of Mammootty. On the other hand Anwar (Asif Ali) is wooing Wahida's younger sister.
PERFORMANCE – Mylanchi Monchulla Veedu Film
We have seen Jayaram in this kind of role a mlillion times and this time too does a decent job. Kaniha is okay as the female lead in a role which is familiar for the Malayalam audience. Asif Ali too fits the bill in a lighter role. Siddique, Meera Nandhan, Shajon, Baburaj etc are usual Udayakrishna- Sibi.K Thomas characters.
STORY – SCREENPLAY – DIRECTION - Mylanchi Monchulla Veedu
As expected, there's nothing new in the film but all those usual formula elements like a big fat wedding, impersonations, enmity between families etc. What should work for these kind of formula driven movies is comedy and strong sentiments. Both are average in 'Mylanchi Monjulla Veedu' and thus nothing stays with you after the titles. Screenplay resembles films like the writer duo's 'Udayapuram Sulthan', 'Karyasthan' etc. Direction by newcomer Benny Joseph is okay.
TECHNICAL DEPARTMENT – Mylanchi Monchulla Veedu Malayalam Film
Music by Afzal Yusuf is a strong plus for the movie and background music are decent enough. Ajayan Vincent does a good job in terms of Cinematography and frames are rich. Sets works are well executed thus helps it look colourful.
ANALYSIS – Mylanchi Monchulla Veedu Malayalam Movie Review
First half of the movie is decent with few good one liners, typical comedy characters etc. Second half starts on the same not but drags after a while leading to a usual happy ending climax. The plus for the movie are few one liners, characters, colourful presentation and songs. On the flip side it is the same beaten-do-death plot, clichéd screenplay and routine climax. Overall, average at best.