Mr. Fraud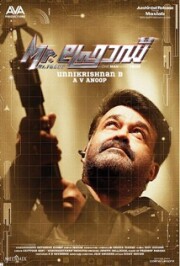 Overview
Cine Shore Rating:
2.75 Mr. Fraud fails to give the needed Kick.
PLOT
The plot of the movie revolves around a mansion and a treasure within it. Enters (Mohanalal) and the team who is one among the few behind the treasure. A heist is planned when the property is planned to be shared. What happens thereafter forms the crux.
PERFORMANCE
Mohanlal shines in the role with is charming and screen presence. He was stylish most of the times and is provided by a cool character which remains the biggest plus of the movie. Few one liners from him is clap-worthy. Mia is okay in her role but didn't have much to do. Pallavi of 'Silence' is provided with a weak character. As to add some grandness the movie has plenty of characters like Vijay Bbau, Manjari Phendis etc.. thrown here and there which looks very forced and unwanted.
STORY – SCREENPLAY – DIRECTION
What Mr. Fraud lacks is a strong Plot unlike the previous outings of the duo , Madambi and Grandmaster and that it brings the overall impact of the movie. With a not that great plot it needed a strong and engaging screenplay which remains one of the abilities of Unnikrishnan. But here it is quite weak and remains average. Few scenes are written well especially in the first half but the overall impression remained average. Dialogues are good in parts and a few are catered to the fans .Direction of the movie is okay.
TECHNICAL DEPARTMENT
B. Unikrishnan has pulled of the best efforts of the technical crew and thus the visuals are very rich and attractive. He has tried to fill the voids in writing with the brilliant work of his team but that was not enough for a hugely hyped movie like Mr. Fraud. Cinematography by Stheesh Kuruppu is impressive and he has used a nice colour grade throughout the movie. Gopi Sundar once again provides some stunning background scores and his songs are also catchy with visuals. But the best efforts have come from the Art works of the movie. The sets are rich, grand and treat for the eyes. Silva's fights are good.
ANALYSIS
From the beginning itself it is evident that the team has tried to pack a stylish flick but the lack of a strong content and screenplay limited the mileage of the movie. Even the much expected heroism factor isn't up to the expected level. The hero-villain face-off also remains average. Nevertheless the movie has its own moments here and there and a graceful Mohanlal who tries to hold the movie without much fuel. Once we are out of the hall the technical finesse and these few pluses remains the positive factors.