Medulla Oblongata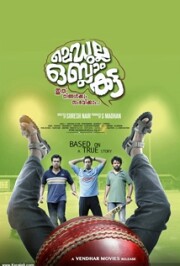 Overview
Cine Shore Rating:
3.0 A decent remake.
PLOT

Medulla Oblongata is an official remake of Vijay Sethupathy's Tamil Super Hit film 'Naduvula Konjam Pakkatha Kaanom'. Chandru (Rahul Madhav) a happy go lucky guy is all set for his marriage with his girlfriend played by Avaana. Two days before his wedding, he with his friends decides to play cricket and during the match he falls down hitting his heads on the ground only to lose his memory. What happens afterward is a series of funny incidences.
PERFORMANCE

Rahul Madhav doesn't get the comfort level which Vijay Sethupathy had in the original. He looked quiet over the top and somehow managed to finish it. Newbie Aavana is strictly okay but she has got only a brief role. When the lead hero scored in Tamil its the sidekicks who has pulled it here. Saiju Kuruppu is impressive as Appachan and he has carved a beauty in comic roles these days. Rakendu is a surprise package and tickles the audience at many places with his comic timings. Arjun Nandakumar does a good job as another pal of our hero.
STORY – SCREENPLAY – DIRECTION

The story of the movie was a real incident and thus there is a believability even though the 'short-term -memory' lose concept is an unconventional thread at least in Malayalam. It had a lot of potential for comedies and the director has succeeded in bringing some. The screenplay of the movie has enough drama and turns even though not something great. But it could have been shortened due to which it looks quite long and the few scenes of Rahul Madahav looks repetitive and tiring after a while. Direction by Suresh Nair is okay.
TECHNICAL DEPARTMENT

Technically the movie is neat and there are very little scope for the same in a movie like this. Still the cinematography is fine, the background scores are alright. But editing could have been better as there are few scenes which could have been chopped-off to limit the run-time. But the avoidance of the formula elements like songs or dance which are usually forcefully added just for the cause.
ANALYSIS

he movie can't be said as a faithful remake but a decent job. The essence of the movie lacks here as there are some nativity factors missing in the plot. The movie definitely offers some genuine laughs at places but the length, some repetitive portions could have. There is no much changes made here which could have been a better fit for the audience here. Despite these glitches Medulla Oblongata has a good plot, has its moments partly and some neat performances take home.