Meagamann Tamil Movie Review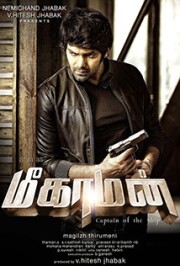 Overview of Meagamann Review
Cine Shore Rating:
3.0 High on action.
PLOT – Meagamann Tamil Movie
Arya (Shiva) is a henchman of a Goa based drug mafia team lead by Jothi (Ashutosh Rana). On the other hand nobody unless few big names haven't seen Jothi who remains covered still controlling his big chain of drug dealings. The movie revolves around them and police man who are set to trace the whole mafia.
PERFORMANCE – Meagamann Film
Arya is impressive as the tough guy on a mission. There is a surprise element in his character which turns the events all together. His physique, body language are major pluses and has done good job in action department. Hansika's character looks very much forced and one even thinks what's the use of her in this plot. Ashutosh Rana is menacing as Jothi and his characterisation is very good. Others like Sudhanshu Pandey, Mahadevan, Ashish Vidhyarthi, Avinash , Harish etc are good in their roles.
STORY – SCREENPLAY – DIRECTION - Meagamann
The premise of the movie is good and the writer/director Magilzh Thirumeni succeeded in coming up with an engaging screenplay. It has many surprise elements thrown here and there and the movie most of the times remains unpredictable, with regular turns in narration. The only big flaw in the movie is the heroine track which is forced and looks like the director didn't want to compromise in formula here. Dialogues are good but the few looked over the top. Direction is pretty good.
TECHNICAL DEPARTMENT – Meagamann Tamil Film
Satish's Cinematography is one of the major plus for the movie and the best part comes in action sequences. Though the songs are mediocre, Thaman comes up with a thumping background music work for the movie. Anl Aras once again rocks with his stunt choreography.
ANALYSIS – Meagamann Tamil Movie Review
First half of the movie is rock-solid with interesting turns in the screenplay and decent thrills. As like Magilzh's previous one 'Thadaiyara Thakka', this one also has some nail hitting scenes. Interval block is executed brilliantly. Second half isn't as good as the first half but remains decent sans the out of place romance and unwanted melody. The climax portions is fine but one would feel an even better ending for a potential plot like this. On a whole it misses the bulls-eye but remains as a decent action flick which is worth your bucks.