Massu Engira Masilamani (Masss) Tamil Movie Review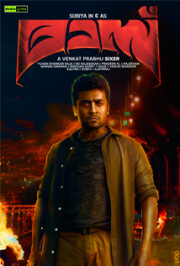 Overview of Masss Tamil Movie Review
Cine Shore Rating:
2.5 Wasted Opportunity.
PLOT – Masss Tamil Movie Review
Mass [Surya] and his friend [Premji Amaren] are two small time frauds who loots money from different teams. They both face an accident and as a result one of them gets a supernatural power to see dead people's ghosts. A series of incidents are awaiting them from then and that forms Mass.
PERFORMANCE – Masss Tamil Movie Review
Surya is stylish and funky as Mass and he has another surprise character which joins later. Performance wise, he does justice to his character and shines in emotional scenes. His screen presence is a huge plus like ever. Nayanthara is just restricted as a typical heroine without much space. Premgi is fine. There is an array of casts from Samuthirakani, Parthipan etc. and they are all good.
STORY – SCREENPLAY – DIRECTION – Masss Tamil Movie Review
The film has a very much potential plot even though placed in a fantasy. But Venkat Prabhu fails at writing things needed to spice up things. He opts to move through many clichéd episodes to carry the film, which falters the intention. The direction is good in parts.
TECHNICAL DEPARTMENT – Masss Tamil Movie Review
The cinematography of the movie is quite good with rich visuals and racy captures. The editing could have been better at places even though it is adequate. Music and background scores from Yuvan is a sort of disappointment after huge expectations.
ANALYSIS – Masss Tamil Movie Review
The film starts in an odd manner with pointless writing. But gets interesting after some time. From there it's more of a fantasy plot and one has to mood up that way to connect with it. [Otherways will feel it as annoying] The film further gets better with a surprise character getting in. Post intermission things get clichéd and it drags. Towards climax, it picks up with a big reveal, but by then the damage gets done and ends on a strictly Avg note. Surya, unique plot, visuals is the plus points while a below par screenplay and drags remains a negative. Overall, it ends up as an average fare after much promise.