Koothara Malayalam Movie Review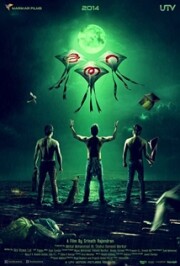 Overview
Cine Shore Rating:
2.75 Good Thought, average execution.
PLOT

Kubrin (Bharat), Tharun (Tovino) and Ram (Sunny Wayne) are Engineering students who make a team of 'koothara'. Three of them starts enjoying their college life till they get into a serious trouble which brings them towards a stranger, Ustad Ali (Mohanlal) . What happens next is what 'koothara' says.
PERFORMANCE

Sunny Wayne plays an extension of some of his previous roles and he is good. Tovino is fine as Tharun. Bharath is the show stealer in the first half with the help of an entertaining role and few hilarious one liners. It was a brilliant idea to project Mohanlal in a totally different character which he pulled off easily expects one silly idea towards the cliamax which spoiled his characterisation. The ladies Jnanai Iyer, Shritha, Bhavana, Gautami and Mdhurima etc don't have much to do, but does their job. Baburaj is wasted with a weak character.
STORY – SCREENPLAY – DIRECTION

The basic idea of the movie is ambitious and appreciable. But it needed a completely entertaining screenplay which should be convincing too. Writer 'vini Viswa Lal' succeeded in bringing the 'entertainment' part, especially in the first half. There are a good number of one liners, mostly from Bharath which brings the house down. But the screenplay in the second half remains mediocre with few weakly written scenes and uneven pace. The subject of 'koothara is quite risky for any director but Srinath does a neat job.
TECHNICAL DEPARTMENT

Cinematography by Pappu is very good and he has tried to project a grandness in most of the sequences. Gopi Sundar's background score is good but the songs remain just average. Editing by the 'Praveen- Srikanth' duo is fine but scenes needed crispness. Production values are good.
ANALYSIS

First half of the movie is entertaining and caters mostly to the youth audience. The one liners and breezy narrative take things forward. Post intermission, the graph of the movie comes down a bit but the entry of Mohanlal increases the tempo and brings a curiosity. But the poorly conceived climax does a serious damage to an otherwise okay movie. The lack of entertainment in the second half and uneven consistency adds to the flaws. 'Koothara' is surreal or a mix of fantasy and reality. Thus it needed a totally convincing output which it missed to a great extent in the disappointing climax. Still it can be classified into the average category for the basic idea and few entertainment.