How Old Are You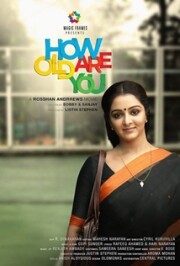 Overview
Cine Shore Rating:
3.5 Yes, age is just a number.
PLOT

Nirupama (Manju Warrier) is a Govrnment employee without much dreams or demands. Her Husband (Kunchako Boban) is the verge of going to Ireland for a job. They have a daughter who also wants to join her father to Ireland. Once Nirupama surprisingly gets an opportunity to meet the President of India who visits Kerala and that changes all her life. What happens afterwards forms How 'Old Are You'.
PERFORMANCE

It's not just another movie but a comeback machine for one of the best actress in Malayalam. A lot was expected from Manju Warrier and she exceeds all the barriers with a brilliant, all round performance. It is hard to believe that we are watching a heroine who has stayed away from movie for this much hiatus. As Nirupama she is sweet, lovable and endearing and brings out all the emotions of an average woman. It is hard to take your eyes off her whenever she is present on screen. Kunchako Boban's character looks cliched as in most of the women centric movies and has nothing much to do. Kanika is fine as Nirupama's old classmate. The supporting cast includes Lalu Alex, Kunjan, Vinay Fort etc. and all of them gets good involvement in the narrative.
STORY – SCREENPLAY – DIRECTION

Although the plot of the movie resembles some of the previous Heroine- centric movies like English Vinglish the Screenplay discusses many sides of a Woman and their dreams. The writing in the first half is impressive with some witty dialogues and nicely conceived scenes. Manju is in full form here. But the screenplay in the second half could have been little more tighter. Direction by Roshan Andrews is very good and there are lots of scenes executed brilliantly. Dialogues needs a special mention as there are many inspiring ones.
TECHNICAL DEPARTMENT

R. Dhiwakaran's cinematography is a real asset for the movie. There is only one song in the movie and it's nice. Gopi Sundar's background scores are really good. Editing in the second half could have been better.
ANALYSIS

First half of the movie is really interesting with a brilliant performance from Manju and entertaining screenplay. The second half starts off well but the tempo goes down a bit because of some preachy scenes and predictability. Still there are few good messages and inspiring dialogues. A little more tighter screenplay would have been made 'How Old Are You' a brilliant attempt. Indeed it is a good movie and deserves a watch for a brilliant Manju Warrier and nice subject. Three for the movie and an extra half for Manju Warrier.