God's Own Country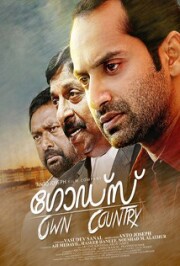 Overview
Cine Shore Rating:
3.0 God's Own Country is engaging.
Its an anthology of different plots and different people who are connected in some or the other way. Majorly its an emotional happenings of three persons. An advocate (Sreenivasan) who is on the verge of reaching the court for the final hearing of a case which shocked the state. A husband (Fahadh) who is struggling to assemble a huge amount so that he could save his wife who is imprisoned in abroad. A father (Lal) who is fighting all the way to gather money for his daughter's operation. What connects them and how they reach their destination forms the rest.
Fahadh Faasil once again lives his character brilliantly. He has got tensed character and he does it in the atmost ease. For the first time he had to do some stunts and he is good in that too. Lal is another show-stealer as the worried father. He got more space for performance among the leads and is very real and touching. Sreenivasan does a role which he has done many times before as a loyal advocate and he is fine. But his presence had something to do with the movie. The film has an array of supporting casts. Lena once again got a notable role and she done it well. Mythili does a bold act as a writer and she is fine. Isha Talwar got very few to do, but she fits the bill. Nandhu, Vishnupriya, Vijayakumar, Manikuttan etc does their job. Nobi provides some lighter moments.
STORY – SCREENPLAY – DIRECTION
It all started with a Kerala Cafe and Traffic and it was a trend in Malayalam for anthology films. Many newcomers cake up with different plots but the genre becoming common. God's Own Country too deals with the same. Apart from the three main plots the writers have went for further sub-plots to make things engaging. While most of the time they succeeds few looked forced and over crowded. Amongst all Lal's plot is more touching. Sreenivasan's track is quiet done in previous flicks but the issue of rape still remains gripping as it is a serious threat in the society even now. Fahadh's plot is quiet convincing (majorly because of his presence and performance) but the flashback episodes gets a bit cliched. The screenplay is done by three writers and the trio gets it working at most of the places. There are few light moments in between the tensed proceedings which helps the movie to avoid an one way approach. Still there are few flaws in second half and drags a bit at places limiting the overall impact. Too much of sub-plots makes it quiet long also. Vasudev Sanal, who is known for 'Priyam' comes up this time with a pretty impressive job and he succeeded in narrating things quiet thrilling. He maintains a brisk pace needed for this kind of films sans few portions in second half. Dialogues are good and the best one belongs to Fahadh where he goes "Cinema il Ummachi kuttiye Nair cherukkan swantham aakiyappol prekshakar kayyadichu pakshe practical life il athundaayilla".
Arvind Krishna's Cinematography is good and he has tried a lot to help the director in bringing the pace, especially during the chase and stunt scenes. Gopi Sundars songs are average and background scores are alright. But there is an unwanted loudness in the initial episodes in order to bring more thrills. The bike stunts in the second half looks mismatching in a film like this and could have been avoided. Editing is also fine and the switch between the scenes are really good.
The movie is gripping from word go and the first half goes in brisk pace. Post intermission things get emotional but there are few pace variations due to few weak scenes. The movie throws some messages indeed and also projects some social injustices. The scene where some people rushes across the road in between a busy traffic as if on an urgency and ending up in a liquor shop is one such. Overall God's Own Country may not be a perfect thriller and have its own flaws. But the gripping narration and splendid performances makes it a good watch.