Ginger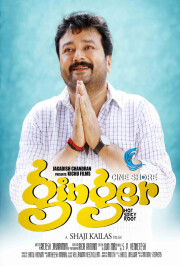 Overview
Cine Shore Rating:
2.0 This ginger is absolutely tasteless!
Plot : The film tells the story of a man (Jayaram) who is framed in a check bouncing case. He is arrested and produced before the magistrate. The rest of the film deals with his past that is revealed through an extended flashback sequence.
Performances : Jayaram did a decent job and so did the rest of the cast though the script was uninspiring to say the least with cliched sequences and a predictable climax.
Technical Side : The direction is a big let down though a poor script can be held responsible for that. Nothing much Shaji Kailas or any director could have done with it. On the other hand, editing is good and the film is crisp at 114 minutes length which means there aren't much lags. There are no songs in the film which means no speed-breakers. However, the film that was projected as a comedy entertainer is devoid of humorous scenes.
Analysis : Overall, Ginger is another washout from Shaji Kalias. Neither the script nor the direction impresses and there is very little Jayaram can do to save the film from sinking
Rating : 2/5