Drishyam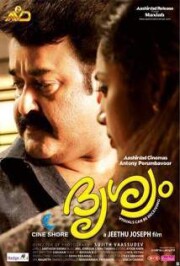 Overview
Cine Shore Rating:
4.0 Jeethu's brilliance meets Mohanlal's excellence
Georgekutty and his family is leading a pleasant life with their occasional outings and middle class ideologies. But a serious turn of events leads them to greater consequences and how they together tackles it forms the crux.
In all means its a great comeback for the 'Actor' Mohanlal. As Georgekutty he brings his usual charm and simplicity in first half and delivers an intense one towards the later part of the movie. Meena who made a comeback to the big screen after a hiatus makes use of her very effectively. She too delivers a loudable performance overall. The additional casts too gives a thumbing performances from a never before Shajon to the kids.
STORY – SCREENPLAY – DIRECTION
The Plot is simple, but Jeethu nackly throws the usual simplicity and difficulties of a middle class family in the first half and a clever screenplay towards the second. Direction also helps, build up the tension and raise the subtle thrills. Even the logic is explained well throughout the screenplay. Dialogues are simple but very effective.
The movie hardly demands technical requirements but still the neat cinematography and interesting background music raises the mood of the movie. Editing is decent.
Even through it starts slow, first half of the movie is okay with the characters and plot introduced. It takes a turn in the second half with thrills and nicely conceived emotions. But the movie reaches at a peak graph towards the final episodes and there you are thrown into some surprising performances and brilliant emotions. Apart from the slow narration and few glitches in the first half there are no much flaws in the movie.