Bangalore Days Malayalam Movie Review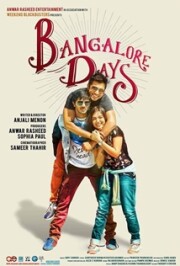 Overview
Cine Shore Rating:
3.5 Youthful and Engrossing.
PLOT

Aju (Dulquer), Kuttan (Nivin) and Divya (Nazriya) were relatives and best childhood buddies. Divya is getting married to Das (Fahadh), a professional who is based in Bangalore. All of them shifts to Bangalore and what happens in their life form the Plot.
PERFORMANCE

Dulquer Salmaan is cool as Aju who is spoiled and a bit freaked. He has performed naturally and has carried out emotions well. His character provides some entertainments along with Nivin Pauly who is naive and composed. Nivin's histrionics in certain scenes are hilarious. Nazriya is good as a girl just married and she has improved a lot in dubbing and looks matured. Fahadh is good as an insecured husband and he has another shade in the character which gives a likeability. Parvathy is too good as a Rj who shares a surprisingly nice chemistry with Dulquer. Isha and Nitya Menon had more or less a cameo appearance and is okay.
STORY – SCREENPLAY – DIRECTION

There is no proper story for the movie, but a serious of sub-plots and moments between the characters carries the movie forward. The screenplay of the movie is very good in the first half with ample entertainments and nicely etched characters. But could have been tighter in the beginning of the second half. But Anjali should be appreciated for giving all her major characters a due importance in the Plot. Dialogues are another major plus including some witty and meaningful one's. Anjali Menon's Direction is brilliant in most of the episodes.
TECHNICAL DEPARTMENT
Sameer Thahir's cinematography is one big attraction of Bangalore Days and has captured the busy life of Bangalore brilliantly. The colour grading is also attractive. Gopi Sundar's songs are good and has once again done a commendable re-recording which are in great sync with the scenes. The editing could have been more crisp as it appears too long close to about three hours. Production Values are grand and Anwar Rasheed should be appreciated for investing lavishly for a content driven movie like this. The final race sequence in conceiving brilliantly.
ANALYSIS

The first half of the movie is breezy and cool. The nice chemistry between the lead casts and few lighter moments keep engaging in an otherwise lengthy first half. There is an inevitable lag in second half due to the long duration of the movie and a throughout serious orientation, but doesn't get tedious. Few lighter scenes would have 'been' done the trick here. A nice twist later brings the momentum, leading to few nice emotions. The last thirty minutes of the movie are totally captivating including a brilliantly conceived race scene in the finale. A little more tighter screenplay in the second half and much crisper length would have been made 'Bangalore Days' an even better experience. Still it's almost worth the hype and a very good watch.